Fluance Fi50 Bluetooth Wood Speaker review: This big box puts out really big sound
The Fi50 sounds more like a bookshelf speaker than a one that sits on a table top. We dig its frequency range, but it's not the best speaker in its price range.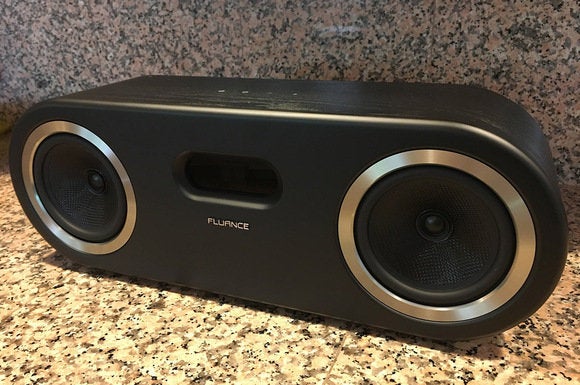 Canada-based Fluance is relatively well known in the audiophile and home theater community for building good-performing, high-value speaker systems. The company generally sells direct to consumer in order to keep prices down. Shipping is free and if you don't like the product after trying it out in your home, you can return it without penalty or even shipping costs—so long is it is within the 30-day return window. By building a good product and keeping its distribution costs in check, Fluance has gained a reputation for delivering audio products at prices far below their value.
The Fi50 Bluetooth Wood Speaker System was once the company's flagship Bluetooth product, but that distinction now belongs to the gargantuan Fi70, which is also in our review queue. Weighing in at 13.4 pounds—the equivalent of eight UE Megabooms—the Fluance Fi50 is by no means a portable speaker. But that mass enables the Fi50 to deliver bass response that no portable powered speaker can touch.
A big engine under the hood
The Fi50 is a two-way speaker system fabricated from MDF to suppress cabinet resonances that can cause distortion. The cabinet comes wrapped in your choice of three wood veneers: walnut, bamboo, or black ash. My original review sample came in walnut, but it had obviously been around the review block a few times. There were several scrapes, some cosmetic damage, and it had a blown right woofer. The replacement Fluance sent featured the black ash finish, so now I know first hand that those two finishes are of high quality and they look great. I presume the bamboo finish looks just as good.
Fluance provides both rubber feet or high-quality metal spikes that you can thread into sockets on the bottom of the cabinet. The spikes will probably do the better job of preventing vibrations from transferring from the speaker cabinet to the surface the speaker is resting on, but they will easily mark a wooden floor or tabletop. I'd suggest using them only on very hard surfaces such as granite, marble, tile, or glass.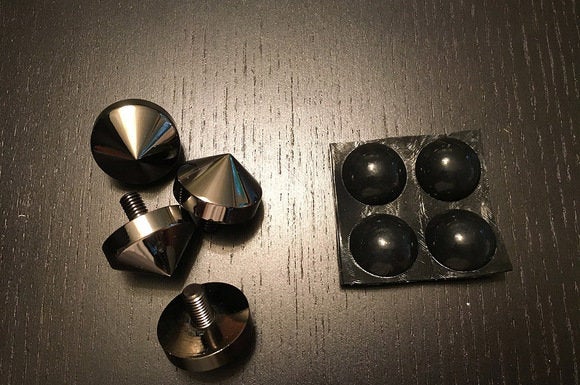 The Fi50 gives you your choice of high quality rubber feet or spikes.
A pair of 3/5-inch coaxially mounted, ferrofluid-cooled silk soft dome tweeters handle the upper end of the audio spectrum, while dual 5.0-inch woven glass fiber composite deliver generous amounts of bass. These are aided by a pair of bass reflex ports in the rear of the cabinet. Everything is driven by a 40-watt amplifier, delivering an impressive frequency response of 40Hz to 20kHz—a rare spec at this price point.
The Fi50's Bluetooth radio supports the aptX audio codec for near-CD-quality audio reproduction, and there's a 3.5mm aux input for playing from other sources.You'll only benefit from aptX if the playback device also supports, and when I paired the speaker with a Pioneer XDB-100R high-resolution digital audio player, it immediately displayed a message that it had recognized the Fi50 as an aptX speaker.