Fluance Fi50 Bluetooth Wood Speaker review: This big box puts out really big sound
The Fi50 sounds more like a bookshelf speaker than a one that sits on a table top. We dig its frequency range, but it's not the best speaker in its price range.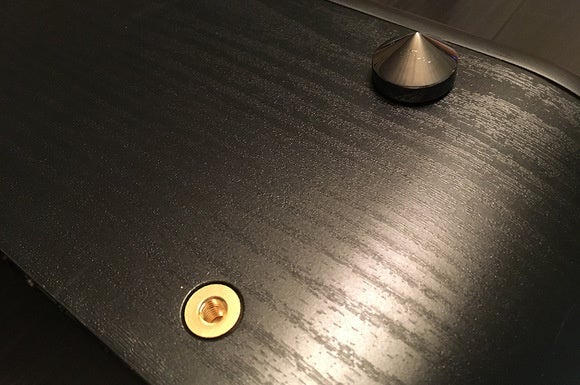 The Fi50 includes high quality spikes that attach to the bottom of the speaker.
Don't be fooled by the USB port on the rear, however; it isn't capable of playing music from your mobile device. Instead, it serves as a handy charging port so you can charge your smartphone or tablet while playing music.
You'll use four touch-sensitive surface controls on the top of the cabinet to manage the front screen's brightness (including turning it off), bass and treble, and volume. The well-used damaged review unit showed me that these stickers might not stand up to the the test of time; a couple of them had partially worn off. I didn't notice any issues with the newer unit, but it's something to be aware of.
When you first fire up the Fi50, you'll notice that it sounds more like a pair of good bookshelf speakers than a Bluetooth speaker. I was immediately taken by the Fi50's presence in my room. It throws a very large soundstage for its size. For example Lady Gaga's vocals on the MQA version of "Lush Life" from Cheek to Cheek with Tony Bennett were far larger than the speaker's enclosure. The accompanying piano was also full bodied. This song showed-off the benefits of speaker's frequency response compared to the competition.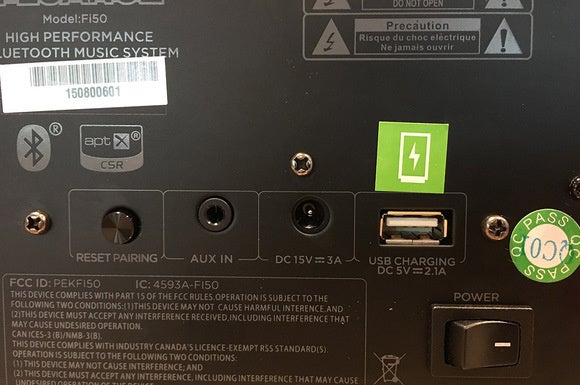 Close-up view of the Fluance Fi50's input options and USB charging port.
The Fi50 is voiced to the warmer side of neutral, with a gently rolled-off top end. The sound of the unit's enclosure comes through at times, manifesting itself in a slightly boxy and syrupy midrange that colored vocals and effected how some of the dynamics came across. For example, on the MQA version of Tom Petty's "Here Comes My Girl," Petty's vocals were a bit flat and too relaxed, recessed behind the music. Percussion were good, but not the best in this price range. The drums on this track were cleaner, with a bit more snap and chest-hitting thump through the much smaller Riva S—albeit at a more limited frequency response.
All, in all, the Fluance Fi50 did an admirable job of pumping out the tunes—at room-filling, ear-piercing volume—without exhibiting strain. It should do fine whether you are using it as background music in the kitchen or pumping up the jams at a party.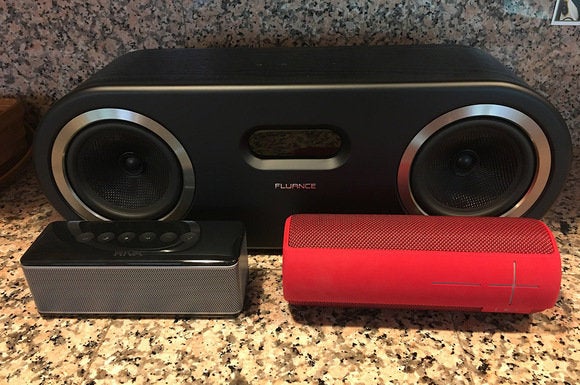 The Fluance Fi50 is a big Bluetooth. In this shot, we're comparing it to the Riva S (front left) and UE Megaboom (front right).