Google Wifi review: Mesh networking made easy
It's not the right router for everyone, but there's plenty to like and it's priced right.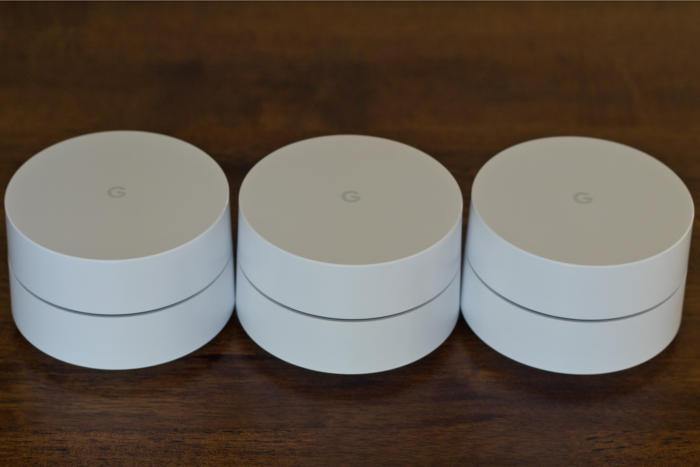 Google delivers much more router than you'd expect for $129, but just one Google Wifi won't be enough for most people. Unless you live in a studio apartment, you'll want to avail yourself of two or three of these devices so you can deploy a mesh network. The master router and a single node probably would be adequate for the 2800-square-foot home we tested in, but adding a third node delivered a significant boost to the farthest corners of the house. Google encourages this approach by offering a substantial per-unit discount when you order a three-pack for $299.
Google Wifi is a dual-band router, of course, operating on both the 2.4 and 5GHz frequency bands. Google describes it as an "AC1200 2x2 Wave 2" device, which means it supports two spatial streams simultaneously, and that it delivers maximum theoretical throughput of 300Mbps on the 2.4GHz band and 867Mbps on the 5GHz band.
Unfortunately, Google Wifi does not currently support one important 802.11ac Wave 2 feature: MU-MIMO (you can read about multi-user MIMO in this story). Google tells me a firmware update will enable MU-MIMO down the road, but it doesn't work now. That won't be a big deal for most people, because there are so few MU-MIMO client devices on the market, and the ones that are available are limited to 1x1 spatial streams.
In any event, your wireless devices will see just one SSID, and the router will automatically choose which Wi-Fi channels it will occupy and which network your wireless clients should join. As with Google's earlier OnHub router—which can act as a node on this mesh network—the router will send statistics to the cloud so that Google's servers can analyze your network's performance. If the cloud determines that your network would perform better by utilizing a different channel, it will send a command back to the router to change channels.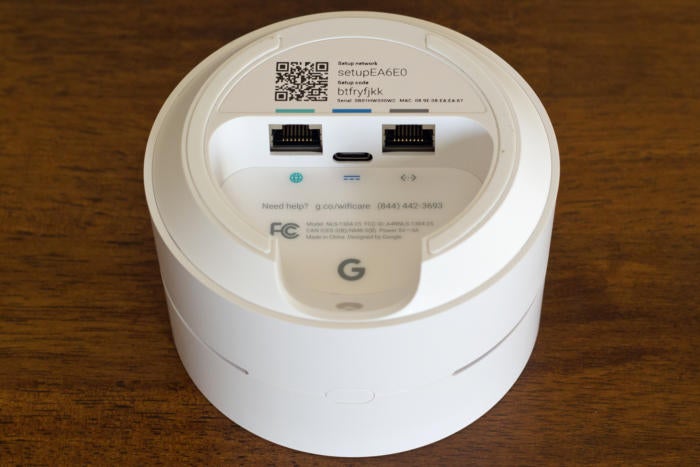 Each Google Wifi node has two gigabit ethernet ports. When configured as a router, one port is used to connect to your broadband gateway and the other is available for connecting to switch.
The router itself uses band steering to suggest that client devices move between its 2.4- and 5GHz networks, and client steering to suggest to the client when a better mesh point (node) becomes available as you move around the house. Hand-offs between nodes are completely transparent, and I never noticed any hiccups as I moved from one location to another inside my home while streaming video to my smartphone.
As is common with mesh routers (we'll be reviewing several more in the coming weeks), Google Wifi is much smaller than a conventional router. The round device—it looks like a miniature layer cake—measures just four inches in diameter and is about three inches tall. It's powered by wall wart with a six-foot-long USB-C cable, and like the OnHub router before it, it has just two ethernet ports.