Google Wifi review: Mesh networking made easy
It's not the right router for everyone, but there's plenty to like and it's priced right.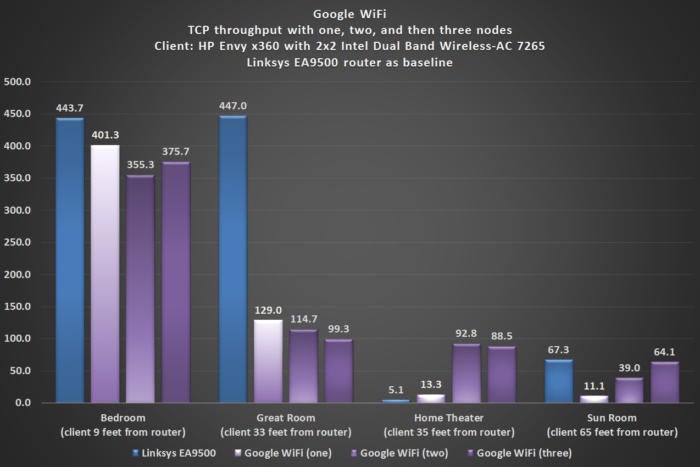 This chart shows how Google Wifi performs when operating with one, two, and three mesh nodes respectively.
When used as a router, one port is used to connect to your broadband gateway and the other can be connected to a switch, an ethernet NAS box, or what have you. Deploy the Google Wifi as a node, and either ethernet port can be used for anything: wired backhaul, if you have hardwired ethernet in your walls; network storage; and so on. You can also use the node as a wireless bridge for client devices that otherwise wouldn't be able to join your Wi-Fi network. A USB port is notably absent. Most competing mesh routers have at least one USB port, but none of the ones we've seen so far have been usable.
You'll need an Android or iOS device with a camera to install a Google Wifi as either a router or a node. The app scans a QR code printed on the bottom of the router to identify it. The next step is to assign a location-based name for the router (Office, Kitchen, Den, and so on), so you can identify it later. The final steps in the process are to give your new Wi-Fi network a name and create a password for it.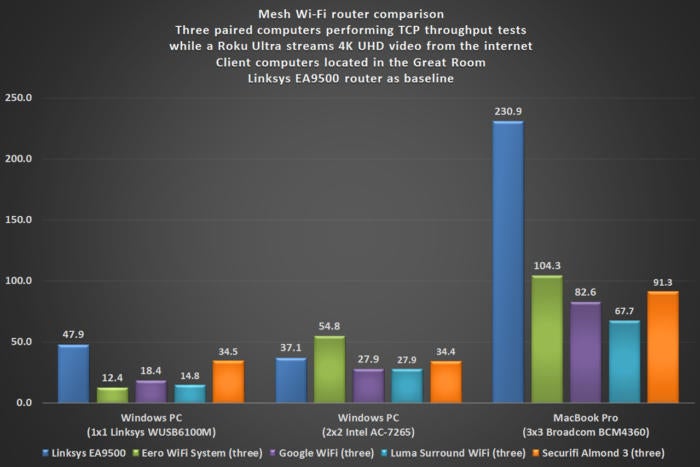 In this stress test, we performed TCP throughput tests between three paired computers while simultaneously streaming 4K video from the internet.
If your ISP gave you a broadband gateway/router, as is common these days, the app will helpfully inform you that the new router is now behind another router, which might adversely impact its performance. Google's suggestion to remove the other router isn't going to work in most scenarios. And Google's other suggestion, to put the Google Wifi into bridge mode, comes with a "not recommended" footnote. Personally, I get around the double-NAT situation by configuring my ISP's gateway to pass the public IP address through to my main router, so that it can handle network address translation.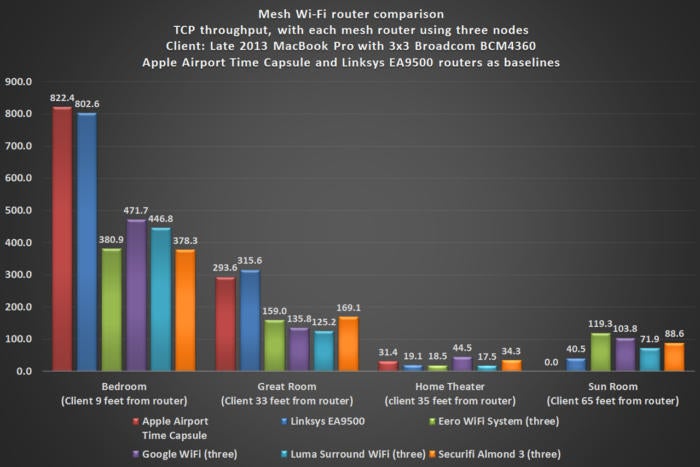 Google Wi-Fi was able to provide more than 100Mbps of throughput to a room that was 65 feet away from the router, a distance an Apple Airport Time Capsule couldn't reach at all.
The installation process takes just a few minutes and you don't really need to know anything about how networks operate to get it done quickly. The router will even automatically download and install the latest available firmware, so that you're protected from whatever exploits might be out there. Once your router is set up, you can perform an internet speed test to make sure you're getting the upload and download speeds you're paying your ISP for. You can also test your local network itself, but where the first test yields actual numbers, the second one just characterizes your network speed as "good" or what have you. Expanding the size of your mesh network with additional nodes is just as easy.