Google Wifi review: Mesh networking made easy
It's not the right router for everyone, but there's plenty to like and it's priced right.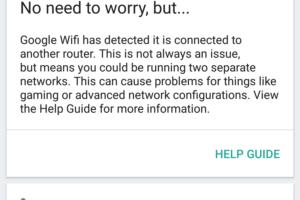 Google Wifi will warn you if you fall into a double-NAT situation.
Google's focus is clearly on everyday folk, not router enthusiasts, but it did leave some doors open for tweaking. You can create rules for port forwarding, make DHCP reservations, and choose which DNS servers are to be used, for example. And there are a number of features that both classes of users will appreciate, including the ability to assign specific network clients higher priority than others, so that you can ensure your Roku box gets all the resources it needs while streaming 4K UHD video. Creating a guest network is as easy as pushing a button, and you can display your Wi-Fi network's password on your phone or even text it to friends right from the app. You can manage your Google Wifi network from anywhere you have internet access, and you can assign other users to be managers as well.
Performance
A single Google Wifi was nearly as fast as the more conventional Linksys EA9500 we compared it to—at least when the client was in the same room as the router. That Linksys router costs about as much as three Google Wifi's. Throughput dropped considerably when the client was moved further away, but adding nodes consistently yielded higher performance at the more distant locations. The Linksys could not deliver acceptable performance in the home theater and the sun room, for example, but the network of three Google Wifi's made it possible to wirelessly stream HD video into those rooms. If you're looking to get rid of dead spots in your home, this should do the trick.
Who's it for?
Google Wifi is for people who don't want to fiddle with a router. It's super-easy to install and it delivers very good performance across the board. You might have heard that Google Wifi can control Philips Hue smart bulbs, too—it can—but if you're looking for a router that can pull double duty as a smart-home controller, you should take a long look at Securifi's Almond 3 before you buy anything else. It is much more sophisticated in that respect than what Google is offering here.
Previous Page 1 2 3