Hands-on with Obduction: Myst's spiritual successor straddles the line between familiar and alien
In which we spend two hours with Obduction and come away impressed.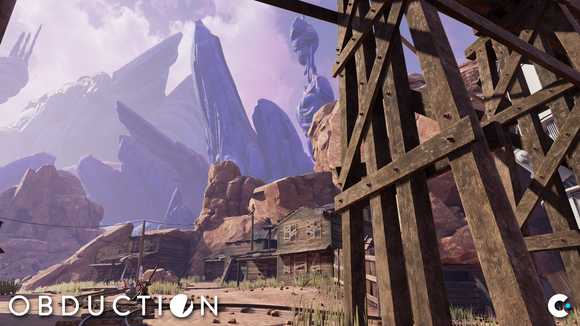 This story's been a long time coming. By now you've hopefully heard Cyan's spiritual successor to Myst, its new game Obduction, has been delayed into 2016. If you hadn't heard, well, now you have. Head over here for the details.
That's the boring stuff, though. That's the business side of this whole thing, and frankly it's something Miller hinted at as early as last year, when I went to Spokane and he said the game was much bigger than Cyan anticipated. And I doubt it's surprising to anyone who's backed a Kickstarter game.
The real news is I've played Obduction—two hours of Obduction. After PAX this year, I retraced my route from 2014 and once again ended up in Mead, WA, at the house that Riven built. I walked in and was led to a laptop, on which was that day's build of the game. Whatever was done on September 1, that's what I played.
A whole new world
A quick side note before we get going: The Obduction build on September 1 was "playable," meaning the game could be completed start to finish. All puzzles were in the game. However, it still wasn't playable in the way you'd want, as a few art assets were missing and puzzles were still being refined. I also had a few complaints about the controls at the time—I've been spoiled by Frictional's first-person adventures (SOMA), so Cyan's current realMyst-esque scheme feels dated to me.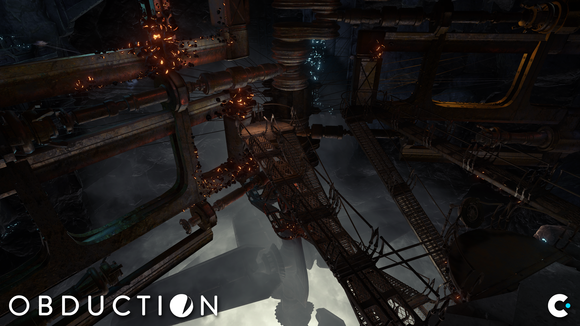 Any of this might have changed, as Cyan wanted me to wait until the delay news was out of the way before publishing this hands-on. Obviously a bit of time has passed. Miller told me this morning that nothing I saw has changed though—they haven't rescoped the bits I played, so this is all still pertinent information.
Most important: Practically none of the story/world-building—a.k.a. Cyan's strength—had made it in yet. That means no journals. Very little set-dressing. The build was basically the scaffolding of the game, the bare minimum required for me to flow puzzle-to-puzzle.
It's an impressive scaffolding though.
Obduction's changed quite a bit since last I saw it. Last year Miller and Co. walked me through the first two worlds, Hunrath and Mofang, in their very early stages. At best, you'd see a vaguely house-shaped group of unshaded polygons. At worst, you'd see a section where the word "House" was scribbled on the ground as a placeholder. And the terrain was just big cubes—grey for rock, orange for sand.
It was enough to give me a sense of the world and a sense of the scale Cyan was going for, but little else. I had to infer the rest through Miller's descriptions and what little I could glean of the art style from concept art and the closer-to-done intro area.