Hands-on with the new Apple TV and Siri Remote
Apple's new set-top box lost a port but gained a great new way to navigate.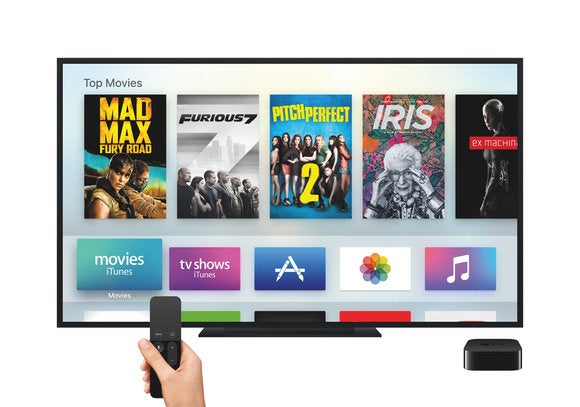 After more than two hours of keynote, it was finally time to kick back and watch some TV—the brand-new Apple TV, that is. Here's what I saw in my hands-on time at Wednesday's special event.
Interface
The new interface just doesn't look new enough to me. It's quicker to navigate since you can "swipe" through lists with the touchpad on the Siri Remote, or just ask Siri to launch the apps for you. But I'm very meh on the design.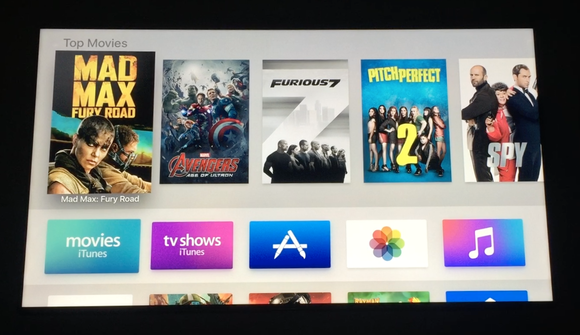 Those aren't MY top movies! Credit: Susie Ochs
I want to be able to control what goes on the top row, which right now is too promotional, pushing "Top Movies" and TV shows that I have zero interest in. Apple should make that work more like the proactive Spotlight screen in iOS 9, either assuming I'm here to pick up where I left off, or guessing what I might like based on my preferences.
Just lay off the hard sell a little, Apple. My three-year-old has a hard time believing that we can't actually watch five-sixths of the movie selections shown to us on our current Apple TV's home screen, and I'm starting to think he has a point.
Remote and Siri
Now we're talking—the Siri Remote makes voice search a piece of cake. You can hold down the button and ask for something to watch, whether you just want something funny, you're looking for a movie for your kid, you want to watch the New Girl episode Prince guest-starred on (which you should, it's hilarious), or you're just in the mood to gaze at Brad Pitt or Ryan Gosling (I feel you).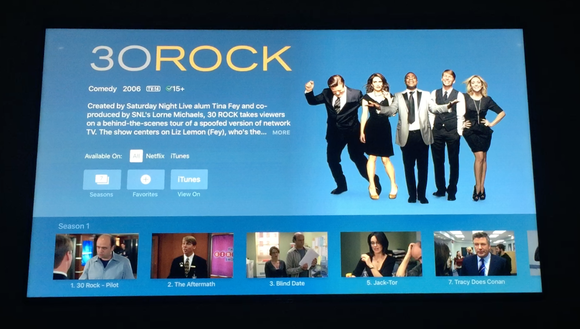 Multi-channel search supports iTunes, Netflix, Hulu, HBO, and Showtime at launch. This search should have found 30 Rock on Hulu too, unless this demo Apple TV wasn't signed into the Hulu app. Credit: Susie Ochs
In my demo time, voice searches were quick and accurate, just like on the Amazon Fire TV. Being able to search within results is huge. You can ask for kids movies, for example, and then specify just the animated ones, or just the ones with Robin Williams. Much handier than having to start the search over just because you want to tweak it a little.
The Siri Remote is comfortable to hold, and should make a passable game controller thanks to its accelerometer and gyroscope, but the fact that Apple wants to charge $13 for a wrist strap to keep you from dropping it is obscene. (Then again, replacing the remote will run you $79, so maybe we should consider using Stickum like a bunch of NFL wide receivers in the 1970s.)