Here's how designers built the largest Lego X-Wing Fighter in the world
TechHive talks to Master Lego Builder Erik Varszegi about the process behind building the world's largest Lego X-Wing fighter.
This reproduction of Lego's $60 X-Wing Fighter (model 94973) is anything but child's play. Measuring 11 feet tall and 45 feet long, the X-Wing model was intentionally scaled to match the props used in the original films.
Built in the Czech Republic at a model production facility, the X-Wing is the result of 32 people toiling for 72,000 hours. If you weren't convinced already, here's one more reason to be impressed: the Lego X-Wing dwarfs even the titanic 35-feet Lego mech located at the Mall of America.
"It's quite heavy," Master Lego Builder Erik Varszegi comments."Almost 46,000 pounds."
Yeesh.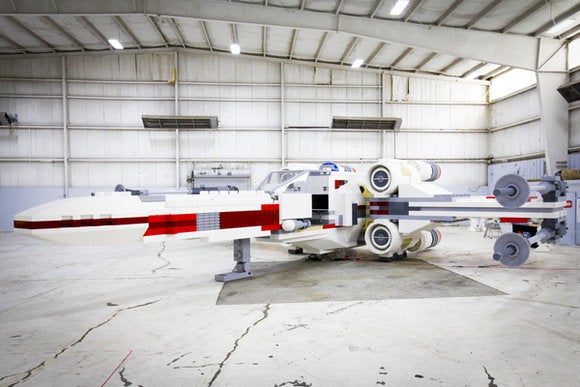 LEGO GROUPThe giant X-Wing as it sat in an airplane hanger, waiting to go on display.
According to Varszegi, the X-Wing, which is currently on display at New York's Times Square, is "pretty much a 1-to-1" replica of the commercial Lego set, only much, much larger. The team had wanted to stay true to "what kids could buy in the store." Designers painstakingly replicated everything, right down to the worm gears on the canon.
Surprisingly, perhaps, the task of designing the X-Wing model was a comparatively simple one. The team used proprietary software that Lego developed years ago to scale up the commercial Lego set, and perform necessary editing. Building the model, however, was another thing entirely.

A portion of the model's rear.


The Lego model that serves as the basis for the giant X-Wing.
Underneath all those Lego bricks lies a steel skeleton--a skeleton that not only needs to be strong enough to support the distributed weight of five million Lego bricks but also one that can be easily broken down and transported at a moment's notice.
In the end, the team came up with an X-Wing model that it could break down into 34 parts. After first moving the ship from the Czech Republic to Long Island, the designers then went on to hold a few "dress rehearsals" to ensure that they could dismantle and reassemble the ship in a single night--a direct result of city ordinance. Needless to say, things ultimately worked out as planned. Lego then shipped the X-Wing from Long Island to Times Square in a flurry of cranes, forklifts, and human bodies.

Builder Erik Varszegi shows off a standard-sized Lego X-Wing, alongside a massive Lego R2-D2 and oversized Luke Skywalker minifigure.



Big model and little model, compared.