Here's why Western Digital is buying SanDisk
The US$19 billion deal comes amid a recent wave of mergers, acquisitions and investment activity in the data storage market.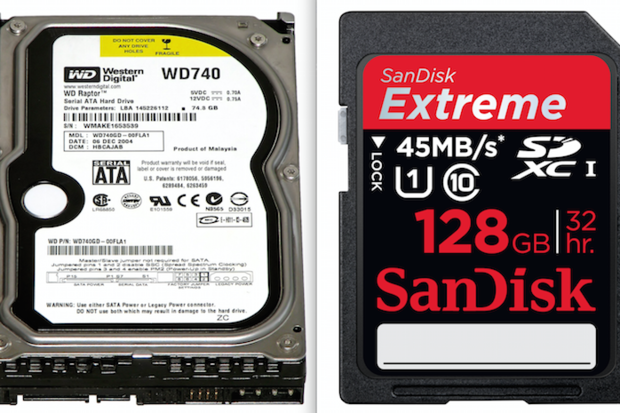 WD gains a big foothold in the NAND flash market with SanDisk. Credit: WD, SanDisk
Western Digital (WD) announced yesterday that it's buying fellow data storage vendor SanDisk in a cash and stock deal worth about $19 billion.
The move comes as the IT industry is evolving rapidly as companies look for ways to embrace trends such as wearables, the Internet of Things and the cloud. The result has been a recent wave of mergers and acquisitions and investment activity in the data storage market.
WD's purchase of SanDisk comes on the heals of the data storage market's biggest-ever acquisition, Dell's purchase of EMC for $67 billion. That deal was announced just last week. In addition, storage semi-conductor maker PMC-Sierra has receive multiple takeover bids, and China's Tsinghua-owned Unisplendour has agreed to buy 15% of WD for $3.78 billion.
WD, a company steeped mostly in hard disk drive (HDD) technology, faces an evolution in IT that is driving companies to address a changing set of requirements for both client and enterprise end customers.
Enterprises no longer rely solely on tape drives for backups and hard drives for primary data, but must also deal with the higher speed requirements of applications such as online transaction processing and big data analytics.
Today, solid-state drives (SSDs) are a critical component of multi-tiered storage infrastructures where flash memory devices sits just under DRAM as top-tier storage.
In addition to enterprise products, both WD and SanDisk are California-based companies heavily involved in different segments of the consumer data storage market, with WD offering desktop NAS drives and SanDisk a leading provider of flash-based thumb drives and memory expansion cards.
Earlier this year, SanDisk, also known for internal SSDs for desktops and laptops, announced its first line-up of pocket-sized, high-capacity external drives.
WD's buyout of SanDisk mainly gives the company an instant foothold in the global, non-volatile NAND flash memory market, according to Jeff Janukowicz, research vice president at IDC.
"Additionally, the NAND industry is at an infection point as it transitions from planar to 3D technology and access to that technology was a key piece of the deal," Janukowicz said via email to Computerworld. "Now, WD is positioned to address a much larger footprint in the storage industry."
WD itself noted in its news announcement about the deal that the combination will "enable it to vertically integrate into NAND, securing long-term access to solid state technology at lower cost."
SanDisk, which has 27 years of experience in the NAND flash memory marketplace, recently announced a deal with leading flash maker Toshiba to manufacture the world's densest 3D NAND -- a 48-layer, 32GB chip that offers twice the capacity of the next densest memory.