How to hang on to Windows 7 for the long run
Not sold on Windows 10? We have the keys to keeping your Win7 system running the way you like it
If you have trouble locating a clean copy of Win7 SP1, check out "The safest way to get a new copy of the Windows 7 bits."
A clean install isn't for the faint of heart. No matter how hard you try, you will lose data, somehow, somewhere -- it always happens, even to us masochists who have been running clean Windows installs for decades.
Start with a full set of program installation CDs, DVDs, or a list of locations where you can download what you'll need. Make sure you have all the keys. Stick all your passwords in a repository like LastPass or RoboForm. You should send your data, and settings wherever possible, off to DVDs or an external or network drive using a product like Windows Easy Transfer (see Lance Whitney's how-to on the TechNet site).
Then, armed with a good copy of Win7 SP1, you're ready to follow Canadian Tech's steps to install a clean copy of Win7.
Note: I don't recommend installing the so-called Convenience Update, KB 3125574, which was created to roll up many outstanding patches. Although the Service Pack 2-like update may save you some time, in my experience if you follow Canadian Tech's advice, the speedup is minimal. The all-star team of Abbodii, PointZero, and Komm has documented the shortcomings of the Convenience Update, and they shouldn't be overlooked.
Step 3. Bring Windows up to speed
If you didn't install a fresh copy of Windows 7 from scratch, you may have trouble with Windows Update taking forever. Start by following the two simple steps to eliminate unconscionably slow Windows 7 Update scans. Then selectively apply patches you need to get caught up.
Starting in October (the "patchocalypse"), Windows 7 patches began arriving in two clumps: Security-only patches (for Group B), which you have to download and install manually; and Monthly Rollups (for Group A), which include nonsecurity patches and are available through Windows Update.
Choose Group A or Group B, and bring your machine's Windows up to date. Yes, if you're in Group W, you can skip this step.
When all seems correct, make one more run of Windows Update to make sure you have the latest patches for Office, .Net, and anything else that may need updating -- including non-Microsoft products.
Step 4. Take control
"Control" means different things to different people, but at a minimum I suggest you make these changes to Win7 before backing it up: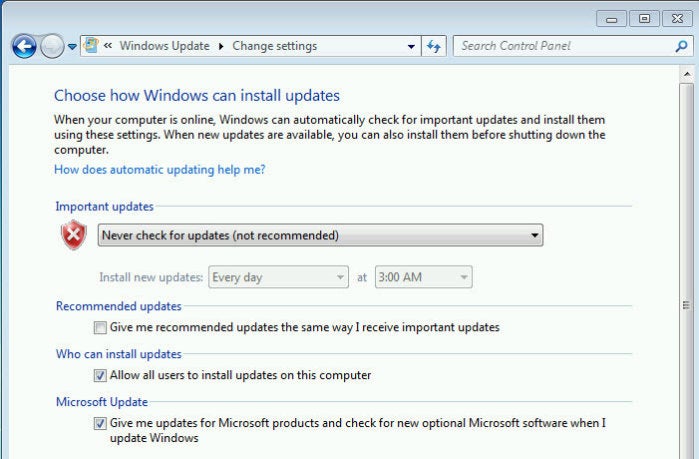 Turn off Automatic Updates. Click Start > Control Panel > System and Security. Under Windows Update, click the "Turn automatic updating on or off" link. In the Important Updates box, choose "Never check for updates (not recommended)." Uncheck the box marked "Give me recommended updates the same way I receive important updates" and click OK.
Previous Page 1 2 3 4 5 6 7 Next Page