How to hang on to Windows 7 for the long run
Not sold on Windows 10? We have the keys to keeping your Win7 system running the way you like it
Step 6. Back up -- now and forever
You're finally at the point where a full disk image backup makes sense. Yes, you should back up your data, too, as part of the system image. I recommend making a single backup at this point -- when your system's working great -- and squirrel it away. Augment that with your usual backup regimen, if you have one.

Before you start the backup, make sure you have your system usernames and passwords written down, for every user on the system. You'll also sleep better if you write down your Windows activation ID. If you can't find an activation ID on a sticker attached to your PC, run NirSoft's ProduKey (screenshot) to pull it out of your machine. That key probably won't get you a clean copy of the Windows 7 files, but it should be a good starting point for arguing with Win7 activation phone support, if you can't get a restored image of Win7 activated. Yes, it happens.
To get serious about creating and maintaining backups, install and run a dedicated backup/restore package. Two of the best: Macrium Reflect (free for personal use; $70 or less per PC for businesses) and Acronis True Image (free 30-day trial, then $50). Follow the installation instructions, create a full disk image on an external drive or networked drive (or on DVDs, if you must), then disconnect the drive and store it someplace safe. Make sure you store a system repair disk along with the main backup.
After you've gone through the first round, set up Macrium Reflect or Acronis to generate a second full disk image, followed by incremental backups.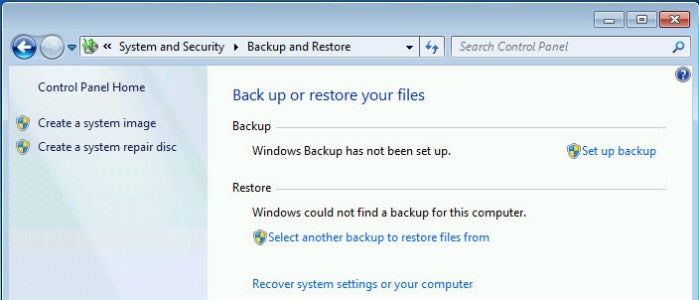 If you really want to use the Win7 backup routines -- they are free and work reasonably well -- buy an external hard drive and plug it in. Click Start > Control Panel > System and Security > Backup and Restore. You see the "Back up or restore your files" dialog (screenshot).
On the left, click "Create system image." You may create the system image on a hard drive, DVDs, or a network location. To go out to the network and look for a suitable location, assuming you have one, click Select.
From the Create a system image dialog (screenshot), you can put your system backup on any accessible drive attached to your network.
Previous Page 1 2 3 4 5 6 7 Next Page