How to use a Bluetooth keyboard with the Apple TV
The Apple TV's included remote is easy to use but limiting, while Apple's Remote app for iOS requires that you have an expensive iOS device on hand and available. Ultimately a Bluetooth keyboard, even an inexpensive third-party model, may be the best Apple TV remote of all.
It turns out that the Apple TV 5.2 update, released earlier this year, enabled just that feature, letting you pair a Bluetooth keyboard with a second-generation or later Apple TV and then use that keyboard for both controlling the Apple TV and entering text. Configuring and subsequently using this duo are simple operations.
Input options
Before getting into those details, a quick note about keyboard compatibility: Apple's documentation states that only recent Apple Wireless Keyboards (where "recent" means "all but the original 2003 model") are officially supported. However, the company also points out that "third-party Bluetooth keyboards that use the Apple keyboard layout may also be compatible."
Over the past few months, I've tested over a dozen third-party Bluetooth keyboards with the second- and third-generation Apple TV, and every one of them has worked perfectly. The models I've tried include Logitech's multidevice Easy-Switch Keyboard and Wireless Solar Keyboard 760, which are ideal if you want to move your keyboard between your Apple TV, your Mac, and an iOS device. I've also tested several iPad keyboards, and a compact keyboard designed for use with a media-center computer. If you don't already have a Bluetooth keyboard on hand, consider getting Amazon's AmazonBasics Bluetooth Keyboard, which works well and costs just $30.
Pairing the Apple
The process of pairing the keyboard with your Apple TV is similar to what you'd do to pair a Bluetooth accessory with your Mac or iPad.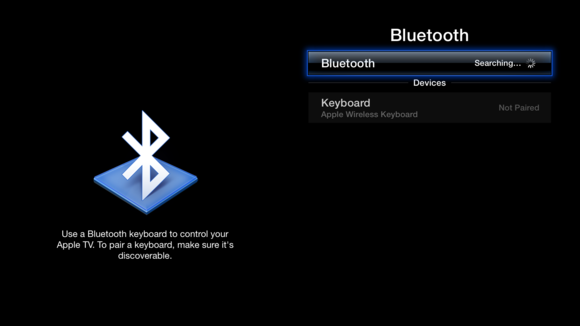 CREDIT: APPLE.The Apple TV's Bluetooth screen
Put the keyboard in pairing mode. Many Bluetooth keyboards have a dedicated Pairing button that you press (or hold) until a light flashes to indicate pairing mode. Others (including Apple's Wireless Keyboard) require you to press and hold the keyboard's power button until the pairing-mode light flashes.
Use your Apple TV's remote (yes, you're stuck using it one last time) to navigate to Settings > General > Bluetooth. The Apple TV will automatically begin searching for nearby Bluetooth devices that are in pairing mode.
Once your keyboard appears in the list, select it and press the Select key on the Apple TV remote.
After a few seconds, you'll be prompted to type, on the keyboard, a four-digit code that appears on your TV's screen. Type that code and press Return or Enter, and you'll receive a confirmation message that the keyboard is now paired with the Apple TV.
The Apple TV will return to the Bluetooth screen, and your keyboard will be listed as Connected. Thenceforth, whenever you turn your Bluetooth keyboard on, it will automatically reconnect to the Apple TV—you'll see an on-screen indicator that looks like Apple's Wireless Keyboard with a link symbol above it. (If you ever want to remove the pairing between a particular keyboard and your Apple TV, just go to the Bluetooth screen on your Apple TV, select the keyboard in the list, and choose Forget This Device in the screen that appears.)
Previous Page 1 2 3 4 Next Page