Linksys Velop Wi-Fi router review: One of the best mesh network systems to date
It might be a little late to the mesh-networking party, but Linksys is showing a winner at CES.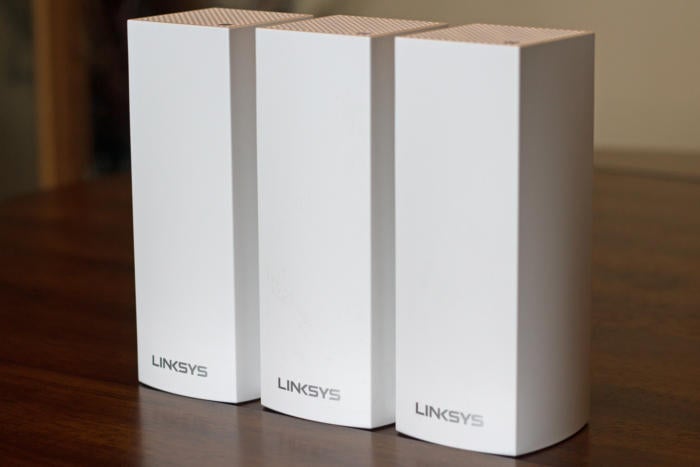 Linksys bid its time before jumping into the consumer mesh Wi-Fi router market, watching Eero, Luma, Netgear, and Google wade in with new products in 2016. Now, Linksys is making a splash at CES where it debuted its Velop Whole Home Wi-Fi system. We've benchmarked the heck out of a three-node system and found it to be one of the best yet. It's also one of the most expensive, with a single router priced at $200, a two-pack at $350, and a three-pack going for $400 (a substantial discount over buying three singles).
You'll find benchmarks conducted with Windows PCs further down, but I performed the same tests with a MacBook Pro. (Click here if you'd prefer to read that version.)
The Velop's slightly rounded columnar form factor hews closer to Netgear's Orbi (next on my review to-do list) than the puck-shaped devices from Eero (benchmarked, but not officially reviewed yet) and Google (Google Wi-Fi has been fully reviewed). And like the Orbi, the Velop is a tri-band router with three 2x2 radios (two uplink and two downlink) operating three independent networks on the 2.4- and 5GHz frequency bands. One of the 5GHz networks utilizes the lower channels on that band (36 and up) while the other uses the upper channels (149 and up). The router automatically steers clients to the most appropriate network, and each automatically chooses a different channel for its backhaul duties (i.e., data traveling from client devices back to the router). You can also set up one guest network.
The Velop's off-white vertical enclosure is perforated with ventilation holes on the left side, the back, and the top. With its six antennas hidden in the top of its enclosure, and its cables emerging from a cutout in one corner, the Velop looks more like a room air freshener than a router. But that's typical of mesh routers—manufacturers are doing their best to design network devices that consumers won't object to placing out in the open. Be that as it may, everyone who buys an understated mesh router will still need to plug it into their ugly old broadband gateway. I suspect a lot of these routers will still end up in closets, but the access points might see the light of day.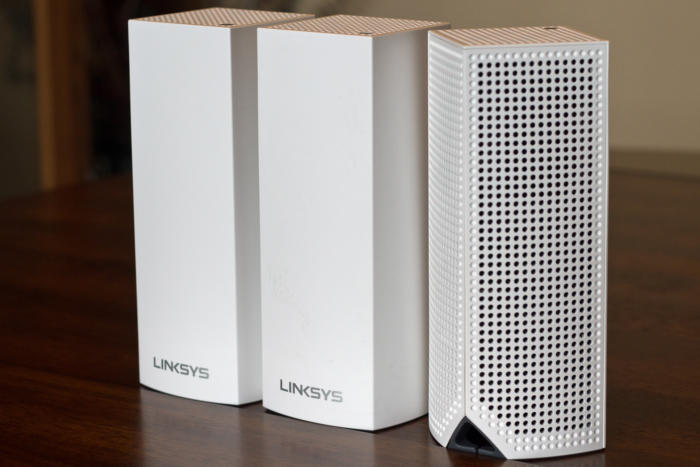 The Linksys Velo offers generous ventilation for its quad-core ARM CPU, 512MB of DDR3 memory, and 4GB of flash storage. Cables emerge from the notch in the corner.
A single multi-color LED on top reports the Velop's status, and there's a silver Linksys logo printed on its solid face. Two ethernet ports and a power connection are located inside a two-inch-deep well inside the bottom of the unit. There's an on/off switch and a reset button here as well (you won't need to bend a paperclip to reach the latter).