Linksys Velop Wi-Fi router review: One of the best mesh network systems to date
It might be a little late to the mesh-networking party, but Linksys is showing a winner at CES.
The ethernet connections automatically configure themselves for WAN or LAN duties, and each satellite Velop can also function as a wireless access point or a wireless bridge for clients that would otherwise need to be hardwired to your network. You'll need a smartphone or tablet to set up and configure a Velop router, as there is no web client. The app (there are Android and iOS versions) pairs with the router's Bluetooth 4.0 radio and then steps you through the rest of the process, which includes setting a Wi-Fi password for the router.
As you add each node, the app automatically evaluates the strength of its connection to the next closest node and will suggest moving it closer if the connection is weak. Bluetooth discovery process took longer than we've experienced with other mesh routers, and Linksys tells us there's a bug that causes the app to time out if you leave it to do something else. The wait is annoying when you're setting up a three-node system as I did, but you only need to do it this once.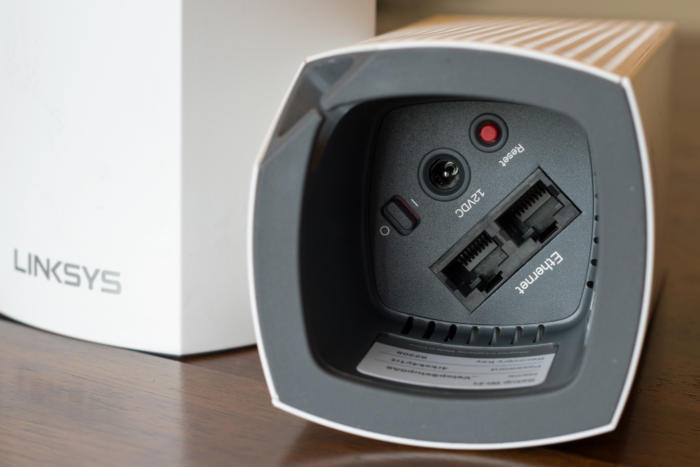 Two ethernet ports (the router auto-configures these as WAN or LAN ports) are recessed inside the base of the router along with the power connector to reduce cable clutter.
Linksys says the Velop will work with Amazon's Alexa digital assistant, but that feature wasn't ready in time for us to review. Once Amazon certifies the Velop skill, you'll be able to use voice commands to turn its guest network on and off and request login credentials for its main and guest networks. We'd also like to see support for prioritizing client devices with voice commands—you can select up to three devices for bandwidth priority if your internet connection is constrained. (As it stands, you'll need the app to perform these tasks yourself.) The Velop app also has basic parental controls.
Benchmark results
If you live in a smaller home or an apartment, you might be able to get away with a single Velop. When the client PC was in the same room as the router, nine feet away and without any walls between the two, it delivered TCP throughput of 431.7 megabits per second. That's almost as fast as the conventional router I compared it to (a Linksys EA9500, which managed 443.7 Mbps), and it's faster than a Google Wifi (401.3Mbps). But the Eero WiFi System was faster than all three, scoring 463Mbps.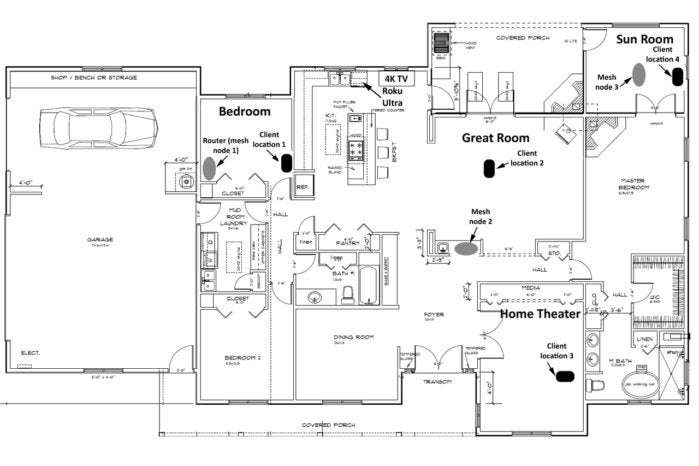 This floorplan shows where the router, mesh nodes, and clients were placed for benchmarking.
Previous Page 1 2 3 4 Next Page