Linksys Velop Wi-Fi router review: One of the best mesh network systems to date
It might be a little late to the mesh-networking party, but Linksys is showing a winner at CES.
The EA9500 delivered the best performance when the client was further away, in my great room. That puts the client 33 feet from the router, with a wall, plywood cabinets, and several kitchen appliances in the signal path (a refrigerator, double wall oven, island-countertop range, and a ceiling-hung ventilation hood). The Eero and the Google Wifi were the highest-performing mesh routers at this location (while operating with one node each, that is).
One Velop node wouldn't be sufficient for my 2,800-square-foot home; then again, none of the single Wi-Fi routers I've tested can sufficiently penetrate my well-insulated home theater—at least not wirelessly.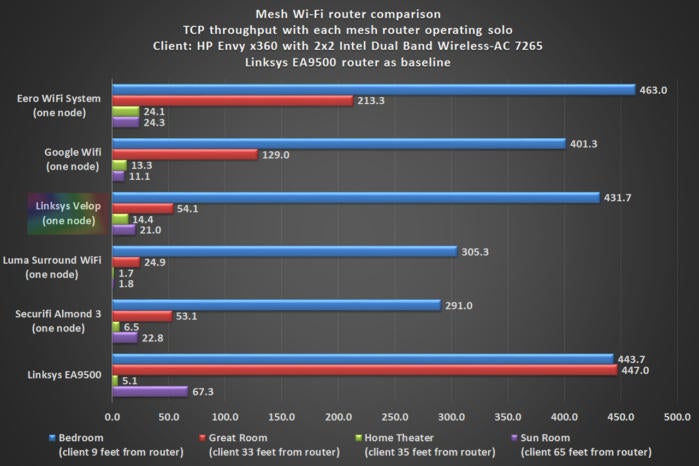 Adding a second Velop node was enough to blanket my entire home with Wi-Fi coverage, including the home theater. The Velop delivered impressive throughput of 145Mbps there and 128.7Mbps in the sun room, which is 65 feet from the router with three insulated interior walls and two fireplaces in the signal path.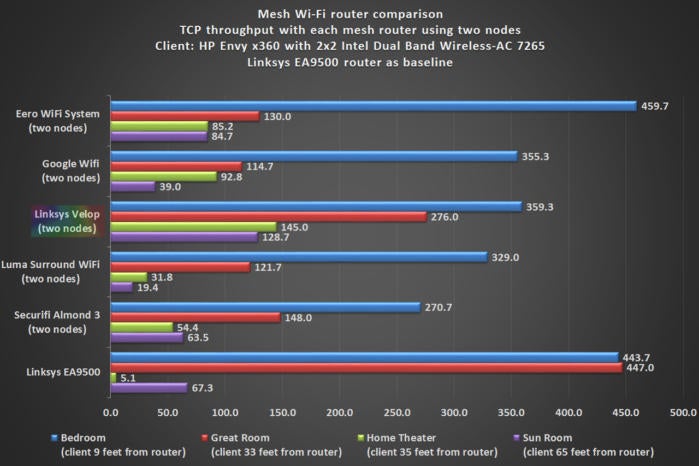 Adding a third node was overkill for my space. Performance at three locations increased, but I saw lower throughput in my home theater for some reason. If adding a third node increased the hops the packets had to make, I would have thought it would impact all four test locations. If I lived in a large multi-story home, on the other hand, I think I would spring for that third node anyway. Buying a two-pack and adding the third later would cost $50 more than buying a three-pack to begin with.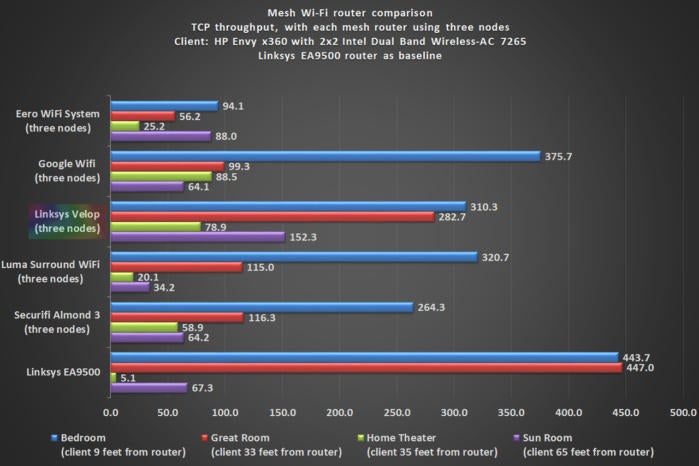 As you can see from the chart below, performance at close range declined as I added nodes, but throughput went up at each of the further test locations (with the notable exception of the home theater). The tradeoff for having a wireless access point closer to each client is having the packets make additional hops to and from the router.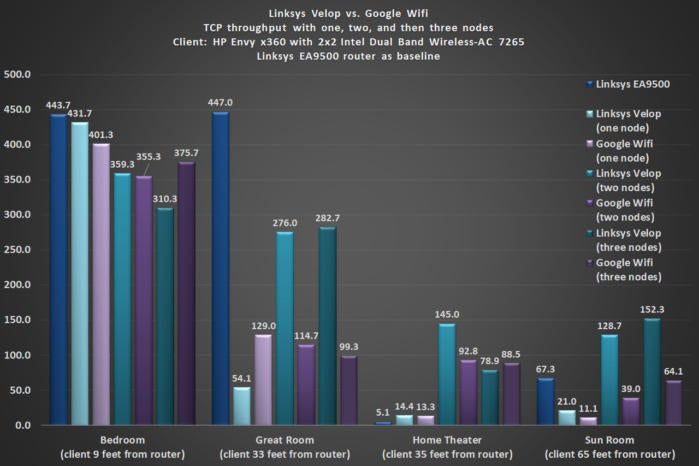 The turquoise-shaded bars show the Linksys Velop router's performance. The purple-shaded bars represent the Google Wifi.The deep blue bar tracks the performance of the conventional Linksys EA9500.
The chart above compares the baseline Linksys EA9500 to the Linksys Velop and Google Wifi with one, two, and then three nodes deployed. None of the mesh routers delivered fantastic range when deployed solo, but adding nodes almost always paid dividends. Adding a range extender might help the EA9500, but a range extender can significantly reduce overall throughput because a chunk of the router's bandwidth is used for backhaul. That doesn't happen with mesh networks, and adding Velop nodes significantly increased throughput compared to Google's product, as you can see in the chart above.
Previous Page 1 2 3 4 Next Page