Linksys Velop Wi-Fi router review: One of the best mesh network systems to date
It might be a little late to the mesh-networking party, but Linksys is showing a winner at CES.
My final performance chart shows how the Linksys Velop performs under pressure. For this test, I run wireless TCP-throughput benchmarks on three pairs of computers (four Windows machines and two MacOS computers) placed 33 feet from the router while simultaneously streaming 4K video from a Roku Ultra streaming box that's wirelessly connected to the network (with three active nodes).
The Velop crushed the competition on this one, including its cousin, the Linksys EA9500. It was more than twice as fast than some of the other routers.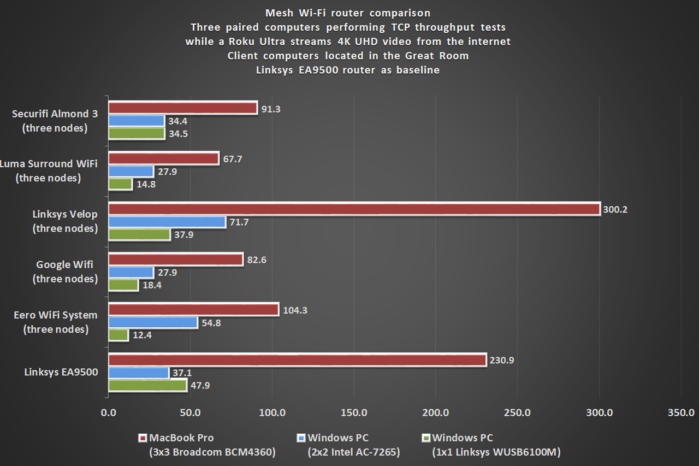 Notice how much higher the MacBook Pro's numbers are compared to the Windows machines? That's attributable to Apple's choice of a 3x3 Broadcom Wi-Fi adapter. The vast majority of Windows laptops, including the HP Envy x360 I used, have 2x2 Wi-Fi adapters. I plugged a Linksys WUSB6100M USB Wi-Fi adapter into the second Windows laptop, which is an older machine with an 802.11n adapter onboard. While the WUSB6100M is only a 1x1 part, it offers native support for MU-MIMO.
Is the Linksys Velop right for you?
The Linksys Velop is one of the best mesh networks we've tested so far. It offers a strong collection of features, very good performance, and comes with a three-year warranty with 24/7 tech support. Eero's comparably priced system delivers higher throughput at close range, but you don't gain nearly as much throughput with additional nodes compared to what Linksys delivers. The Velop is also the only one of the three routers to support MU-MIMO right out of the box. While there aren't a lot of MU-MIMO client devices on the market right now, you won't have to wait for a firmware update if you own one.
Linksys is taking pre-orders now and expects to ship the new router on January 15.
Previous Page 1 2 3 4