Macbook Pro vs Surface Book i7
The latest versions of the Surface Book and Macbook Pro both offer top-notch performance at the same price, but which device offers better features and more value?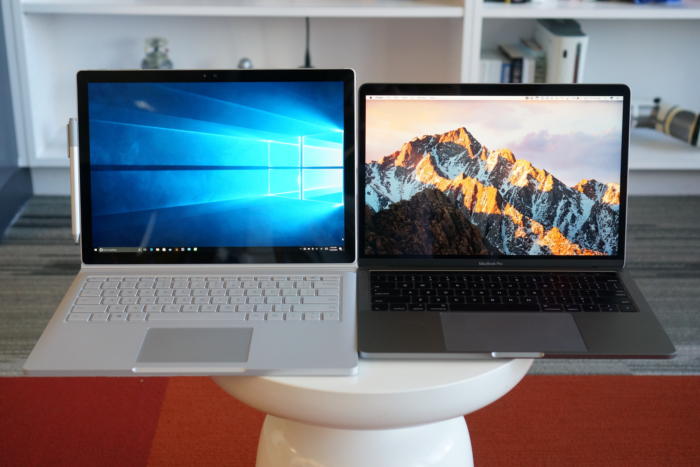 Earlier this fall, Microsoft announced a souped-up version of its Surface Book, offering a new configuration with an Intel Core i7 processor, 16GB of RAM, a 1TB drive and high-end NVIDIA graphics. And, right on que just a day later, Apple unveiled its latest Macbook Pro model, with a new "touch bar," and improved specs.
At first glance, the Surface Book i7 and 2016 Macbook Pro both look like high-end notebooks that offer first-class performance but when you get past the sleek designs and stunning displays, do they offer the same level of performance for the price? While it ultimately boils down to your specific needs, if you need high-end graphics that can handle gaming, video or image editing and 3D applications, you need to take look a little closer at what each device offers.
Macbook Pro and Surface Book designs
The 2016 Macbook Pro hasn't changed much in design. It's still slim, measuring just .59 inches thick, and it's lightweight at three pounds. Aesthetically, the newest Macbook Pro mirrors the sleek aluminum clamshell design of past iterations, which isn't a bad thing as Apple has always built attractive devices, and that hasn't changed with this notebook.
Comparatively, the Surface Book features a unique high-end design, relying on a hinge that holds the tablet-display in place. The magnesium body offers a similar contemporary design as the Macbook Pro, but the hinge and slightly taller display keep it from looking like a Macbook copycat. It's heavier, weighing 3.63 pounds for the highest configuration with performance base, and it measures .51 inches at its thinnest point, going up to .9 inches at the thickest point, which means it's slightly more cumbersome than the 13-inch Macbook Pro.
The Surface Book hinge is exactly what makes the device unique, but some users complain that it creates a gap between the display and the keyboard. The problem with the gap isn't just a slightly bulkier design, it can also leave the display and keyboard more vulnerable when shut. While this didn't happen in testing, it's not hard to imagine something getting wedged into the open space if you had to quickly toss your notebook into a purse or laptop bag. Of course, an easy fix is to always use a protective sleeve, but ultimately the Macbook Pro offers a more durable, compact design that, while familiar, is still one of the best around.
Macbook Pro and Surface Book displays
You'd be hard-pressed to find a high-end notebook that doesn't at least have the option to upgrade to a touch-screen display, but Apple still hasn't jumped on board. The latest Macbook Pro includes a new touch bar, replacing the function keys to give you a new way to interact with the device, but you still can't interact directly with the display. At this point, so many notebooks and devices have touchscreens that it's almost second nature to reach up and tap on a display. However, CNET reports that it's a conscious decision by Apple designer Johnny Ive; despite arguably popularizing touch-screen tablet design, he believes users don't need to (or want to) interact with their notebooks the same way.