Mad Max (PC) review: Where worn-down rubber meets road
It's better to burn out than it is to rust.
The harpoon quickly became my favorite tool, both for impaling enemies and tearing down structures. Upgrading the harpoon to maximum efficiency requires clearing every side-objective in the first region. So I did, and that easily took up eight or nine hours of my time. And while zone clearing gets more fun/tolerable once you've upgraded your car and Max to take more punishment, it never feels important.
What's most irritating to me is that in other regards, Avalanche has packed Mad Max with an overabundance of variation. The map is incredible, seamlessly transitioning between rolling white salt dunes and red canyons and the trash-strewn oil fields of Gastown—and each with its own bit of lore, hidden three menus deep. There is plenty of story implicitly conveyed through the scenery, like the fact the first stronghold you encounter is a decrepit lighthouse surrounded by a sea of sand.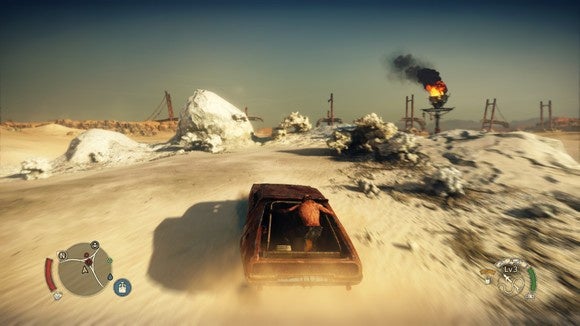 And Avalanche took similar care with enemies. There are three different factions for Max to vie against, and each has its own design language, its own cars, and even its own enemy types. That's an impressive amount of variation, considering Assassin's Creed has relied on the "Light, Heavy, and Ranged" trifecta for almost a decade.
If only the rest of the game held the same amount of variation, I think Mad Max could be something special.
Bottom line
As it is, Mad Max is a victim of circumstance. 2015 is on track to be one of the best years in gaming history, not least because so many titles have pushed what we expect from open worlds. The Witcher 3 proved you can make a 100+ hour game full of bespoke, story-driven side content.Metal Gear Solid V took the Just Cause 2 route of turning an open-world into a playground. Fallout 4 looks like…well, Fallout 4 and everything you'd expect from a next-gen Bethesda game.
Mad Max can't hang with that crowd. Is it a bad game? Absolutely not. On the contrary, Ubisoft's open-world template is perfect for churning out market-friendly games that tick all the boxes of "What People Want." Or, perhaps, "What You Want."
And honestly, Mad Max's formula is still to some extent "What I Want." Just not as much as a few years ago.
Previous Page 1 2 3