Moto Z review: Motorola proves modular smartphones are the future of mobility
Completely unadorned, Motorola's new flagship phone is a solid performer. But once you add in swappable modules, you can configure the smartphone of your dreams.
There's no ditching stock
The Moto Z's Home screen and app drawer.
Like the rest of the Motorola family, the Moto Z is relatively bloat-free. It runs a near-stock version of Android 6.0.1 Marshmallow, and features a few add-ons like gesture controls and an ambient display, which you can easily adjust from the Moto application.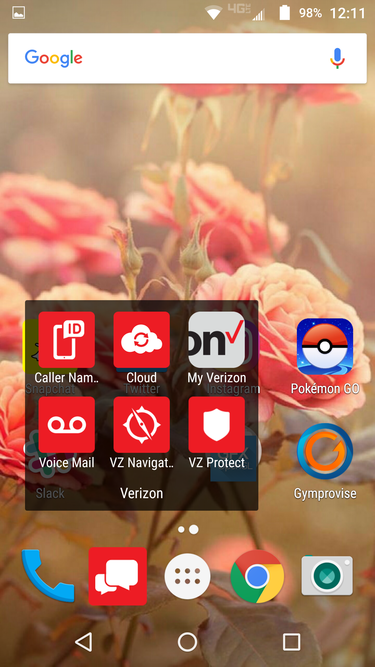 Ugh. Verizon bloatware.
However, because the Moto Z is initially sold only through Verizon Wireless, you'll have to contend with the hoard of apps that Big Red forces upon you. This includes the NFL Mobile app, and a variety of games you'll likely never play—who's playing anything but Pokemon Go these days, anyway? And of course, you can't delete any of the apps to reclaim disk space (though you can disable them).
Should you buy this phone?

Florence Ion
An impressive flagship from Motorola.
Things are looking good for Motorola under Lenovo's wing. Its budget line might have taken a weird, unfortunate turn, but it appears that its flagship line has finally received its much-needed makeover.
Let's be real here: The Moto X was a great line of smartphones, but never particularly exemplary. The Moto Z, on the other hand, is the Lexus to the Moto X's Toyota: It's a sturdy, confidence-inspiring device that promises extra bits of luxury. In the Moto Z's case, those luxury promises are the Moto Mods. Sure, you can opt for basic cosmetic flourishes with Power Packs featuring Kate Spade and TUMI branding, but you can also customize how you use the Moto Z. And that's the whole point behind the Moto Z's modularity: To help you to create your perfect smartphone.
We're not not fans of Verizon bloatware. We're also concerned about the Moto Z's overheating issue, confusing fingerprint scanner, missing earphone jack, and somewhat wispy design when its not attached to a Moto Mod. It's also possible the higher-spec'd Moto Z Force—which we'll review soon—will be the Moto you want most. But make no mistake, the Moto Z is a very good phone.
Previous Page 1 2 3 4 5