Nvidia plans to lock Game Ready drivers behind GeForce Experience registration
Soon, you won't be able to get Game Ready drivers for your GeForce graphics card unless you hand your email address over to Nvidia.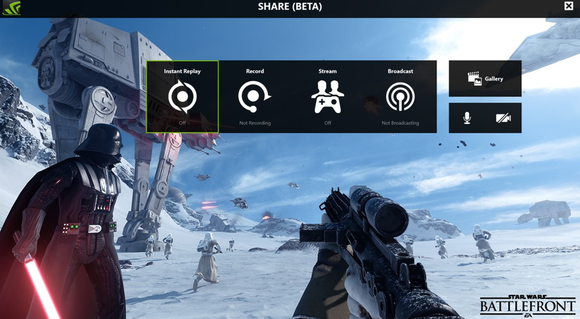 Nvidia's GeForce Experience beta interface, running in the recent Star Wars Battlefront beta.
GeForce Experience has long functioned as a control hub of sorts for Nvidia users, offering one-click game optimization, easy driver downloads, the impressive Shadowplay video capture tool, the ability to stream PC games to Shield devices, and more. It's great!—just like Nvidia's Game Ready drivers. But while Nvidia reps tried to downplay the upcoming registration requirement by pointing out that "mid- to high-90 percent" of Nvidia owners already apply updates via GeForce Experience, the fact stands that currently, you can bask in all those value-adding features—and drivers—without ever having to register with Nvidia or officially log into GFE.
Nvidia plans to add more functionality to GFE in its quest to make the software a "single-source destination" for PC gamers, however. PC gaming news will make its way into GeForce Experience, as well as hardware giveaways and early access to games. It's easy to envision Nvidia leveraging GeForce Experience to pass out codes for beta access to games, rather than relying on website-based giveaways as it did with the recent Rainbow Six Siege beta. One day, the free games that Nvidia bundles with its cards could even conceivably be delivered via GFE, similar to how Nvidia offered free Witcher 3 copies to Titan X owners earlier this year. Game-based goodies like that would basically require you to log in to register, anyway—as they have in the past.
But locking Game Ready drivers away unless you hand over your email address to Nvidia just feels icky—like an overreach that benefits Nvidia more than actual gamers. Alas, most gamers will likely wind up handing over the info, even if they grumble. The allure of Nvidia's delicious Game Ready drivers is just too great, and once you've already invested in a Green Team graphics card, you're likely to stick with it for a few years before upgrading. You can't leave performance on the table for that long.
And it certainly feels like Nvidia knows it.