Review: Steve Jobs offers more Hollywood fiction than fact
The new film, which opens nationwide later this week, has its flaws, but is still fun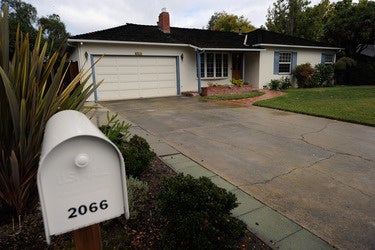 Steve Jobs' childhood house and garage in Los Altos, Calif. on Oct. 6, 2011. Credit: Thinkstock
But Woz and Sculley never had the opportunity to challenge Jobs so. There's no evidence that Jobs and Sculley ever spoke again after Jobs left Apple in 1985, which makes his role as a recurring character implausible. Woz also left Apple in 1985, whereas the movie implies he was still heavily involved in the company as late as 1998.
To make a movie out of just three scenes relies on real artistic license. But this movie uses so much license -- and is so far from the truth -- that it's not meaningful to judge it on historical accuracy. To that end, I prefer to think of it as a comic book-style adaptation or reboot, where homage to the source material doesn't get in the way of telling a good story. When viewed in that light, Jobs becomes a tense, fascinating character study in megalomania, control, relationships, failure, and success. These themes are true to the story of Apple and its leader, even if the exact manifestations are not. Fassbender executes these themes without a hitch, being cunning, coy, and obdurate in the early eras, yet increasingly more human and emotional in the final scenes of 1998 — paralleling Jobs' failure at NeXT, success at Pixar, and relationship with Laurene Powell, all which made for a very different man upon his return to Apple.

Steve Jobs speaks at the company's Worldwide Developer Conference in San Francisco on June 11, 2007. Credit: Ben Stanfield
The film is aided and abetted by a talented production crew. Sorkin's script ensures a dialogue-driven film with plenty of trademark walk-and-talks and few pauses. So many scenes are fabricated that I have to wonder in what way it's based on Isaacson's biography, except as patchwork amalgamations of characters and vignettes.
Boyle chose to use different cameras for each era: a grainy 16mm in 1984, a finer 35mm in 1988, and finally, digital in 1998. My untrained eye didn't notice a difference between the latter two, whereas the 1984 footage stood out in stark contrast, especially when later scenes flashed back to that era. The visuals are complemented by soundtrack heavy on Bob Dylan that fits Jobs' obsession with the artist and his music.