Roland acquires majority stake in headphone-maker V-Moda
We interview V-Moda CEO Val Kolton, who will retain 30 percent of V-Moda and become a Roland product design consultant.
Roland Corporation, a storied manufacturer of electronic musical instruments and recording gear, is taking a 70-percent ownership stake in boutique headphone manufacturer V-Moda. The financial terms of the deal were not disclosed.
Best known for building high-end headphones for DJs, V-Moda will operate as an independent brand under the leadership of V-Moda CEO Val Kolton, who will also become a product design consultant in Roland's dance, DJ, and electronic music division. Roland timed the announcement at 8/08 at 8:08 am Pacific as a tribute to its iconic TR-808 Rhythm Composer analog drum machine, which became very popular in the production of electronic dance music and hip-hop in the late 1980s, many years after it went out of production.
"While this is a historic moment for both companies, only ownership will change," Kolton said in our one-on-one interview. V-Moda was a family-owned company during its first 12 years of operation, with Kolton's parents and brother actively involved. Following today's announcement, the senior Koltons will retire and Kolton's brother will depart to pursue other interests.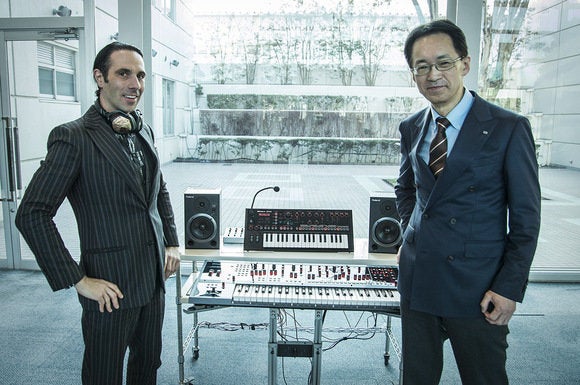 V-Moda CEO Val Kolton (left) with Roland CEO Jun-ichi Miki. Credit: Roland and V-Moda
"We're pleased V-Moda has joined the Roland family of brands," Roland CEO Jun-ichi Miki said in a press release. "V-Moda revolutionized headphones and has pushed the envelope of personalization. Their Milano [Italy] design, material research, and professional DJ roots along with their loyal customers are incredible assets for Roland. It's an exciting time for both companies, and we are eager for the talent at V-Moda and Roland to collaborate. This new team and the audience that the products are going to attract will definitely inspire the future of music."
Kolton said V-Moda and Roland will remain separate companies, and their brands and office locations will remain distinct. You won't see Roland's pro headphones suddenly rebranded as V-Moda or phased out. V-Moda's locations in the U.S., Milan, and Asia will remain untouched. After the merger, V-Moda will gain engineers and office space in Tokyo and more sales resources to help grow V-Moda's brand globally.
Most importantly for existing customers, there will be no changes to V-Moda's product side. Even though the two companies would remain separate, I asked Kolton if there would be changes to some of the things that have endeared V-Moda to a loyal fan base. For example, would V-Moda's headphone customizations, accessories, and customer service policies (such as its "Immortal Life Program," which entitles V-Moda owners to a 50-percent trade-in discount) change? "Absolutely not," Kolton said. Roland admired these policies and intends to preserve them, according to Kolton.