Sonos speakers and components get a makeover with Flexson's accessories
The British manufacturer Flexson is showing off its comprehensive collection of Sonos accessories at CEDIA for people who want to better position their Sonos speakers in a room or to just give the speakers a unique look.
I asked Cain if the skins would restrict the Connect's cooling ability (while it doesn't have an amp inside, it also doesn't have a fan), and he said Flexson uses a breathable material, sourced from 3M, that doesn't interfere with the Connect's heatsink properties. He said he's peeled the skin off the components after a full year and it hasn't left any adhesive residue. Prices for the skins start at about $30 for the Play:1.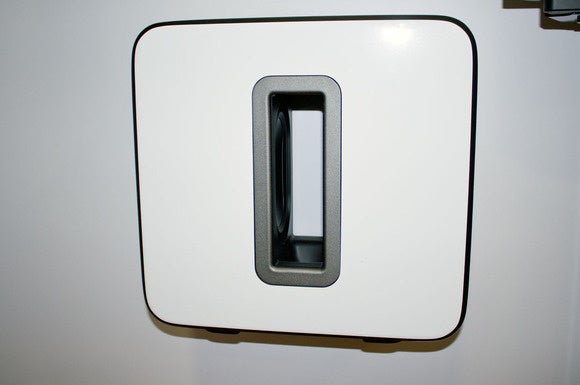 Sonos says you can buy its Sub in any color you want, as long as it's black. Flexson lets you turn the Sub white and mount it to the wall if you'd like. Credit: MICHAEL BROWN
Flexson manufactures most of its Sonos accessories in the UK, but Cain said rising demand had recently forced the company to outsource some of its production to China. "But we maintain tight quality control over the factory in China to make sure they don't start turning out junk," Cain said.
Source: TechHive