Surface Book i7 vs. MacBook Pro: Fight!
Ali vs. Frazier, Red Sox vs. Yankees, Kirk vs. Khan. And of course, Mac vs. PC.
Now that Apple's introduced the first major update to its MacBook Pro lineup in years, it's time to square off the best of the best in Mac and PC laptops to see who currently prevails in this age-old rivalry.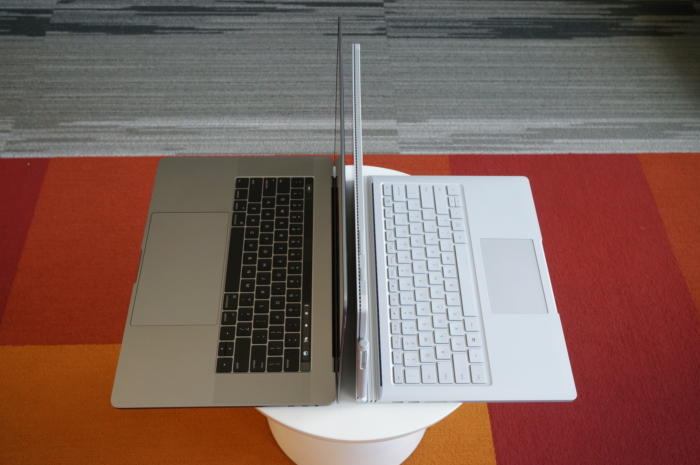 It's benchmarks at dawn between the new MacBooks, the new Surface Book i7, and a posse of other Windows laptops.
The contenders
For this comparison I reached for the newest Surface Book. It's a top-of-the-line model with a Core i7-6600U, a GeForce GTX 965M, 16GB of RAM, and a 1TB SSD. The updated product line varies from $2,400 to $3,300 (our model) in price. All three net you a 6th-gen Skylake dual-core Core i7 chip, and all three get you the same Performance Base with a GeForce GTX 965M. From what I can tell, the only differences are in the size of the SSD and how much RAM you get. Only the SSD would affect performance significantly.
On the Apple side, I turned to a $2,400 MacBook Pro 15 with a quad-core Core i7-6700HQ, 16GB of LPDDR/2133, and a 256GB SSD. I also had partial access to two MacBook Pro 13's. The first was the non-touch bar model with a Core i5-6360U, 8GB of LPDDR/1866, and a 256GB SSD ($1,500). The second was the Touch Bar version with a Core i5-6267U, 8GB of LPDDR/2133, and a 256GB SSD ($1,800). I used the performance results from our sister site Macworld's review for this article.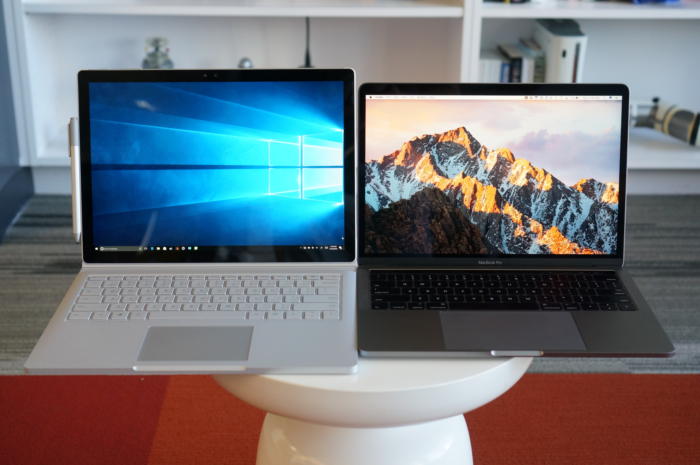 That Surfaced Book cleaned the clock of the MacBook Pro 13 last year. Can it do the same again?
Why this contest isn't rigged
Let's make it clear from the outset: This isn't a direct comparison of the laptops based on cost, but an attempt to compare the performance of the new MacBook Pros to that of similar PC laptops.
For those who've noticed the considerable price delta between the Surface Book i7 and the 15-inch MacBook Pro, the stack of other PCs used in this comparison will help smooth out that line. You might argue that it's silly to compare a $3,300 Surface Book i7 against an $1,800 MacBook Pro 13, or a $1,100 Dell XPS 13 against an $1,800 MacBook Pro 13, or a $1,400 Dell XPS 15 against a $2,400 MacBook Pro 15. But these are all real-world models that you'll find in a store, rather than configurations contrived to hit a number. Price differences are just part of the comparison puzzle.
For the same reason, we're not loading the same OS on all the laptops—no OSX on PCs, no Windows on Macs. Real people wouldn't do that, and neither will we.