Surface Book i7 vs. MacBook Pro: Fight!
Ali vs. Frazier, Red Sox vs. Yankees, Kirk vs. Khan. And of course, Mac vs. PC.

We opted to test on the operating system that people will run on the computer they buy.
Cinebench R15 multi-threaded performance
Our first test is Cinebench R15. This is a 3D rendering test based on Maxon's Cinema4D engine. The test is heavily multi-threaded, and the more cores or threads you can throw at it, the better the performance. The test is is a pretty harsh reminder that if your tasks demand a quad-core, listen to them.
Between the two quad-cores, the Dell XPS 15 crosses the finish line first—but not by much. Let's just call it mostly a tie.
Among the dual-cores, the Core i5-based MacBook Pro 13 is last, but not by much. It's basically the same as the last-gen XPS 13 with a similar Core i7-6560U.
The surprise is where the Surface Book i7 finishes. Its 6th-gen CPU is hanging right with the 7th-generation Kaby Lake CPUs in the new HP Spectre x360 13 and the new Dell XPS 13.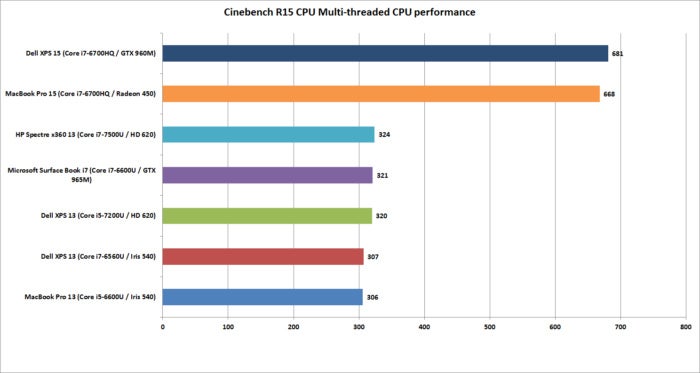 Cinebench R15's multi-threaded benchmark shows you the clear difference between quad-core and dual-core CPUs. Longer bars indicate better performance.
Cinebench R15 single-threaded performance
Cinebench R15 has an optional test that lets you measure the single-threaded performance. It's a valuable way to gauge how fast a laptop will be in applications or tasks that don't use all the cores available.
The surprise to many will be the result from the Dell XPS 13. Its 7th-generation Core i5 CPU could hang with the Core i7 chips on heavier loads, but on lighter loads, it ends up being last. That's because Core i7 chips in laptops excel at short, "bursty" loads. Once you heat them up, the clock speeds crank back. When running a test in single-threaded mode, the Core i7's advantage with short burst loads shows up big-time.
The real shocker is how the HP Spectre x360 with a 7th-gen CPU comes out the clear winner. I would've expected the quad-core MacBook Pro 15 or Dell XPS 15 to lead the pack, but nope. That Kaby Lake CPU is indeed pulling its weight.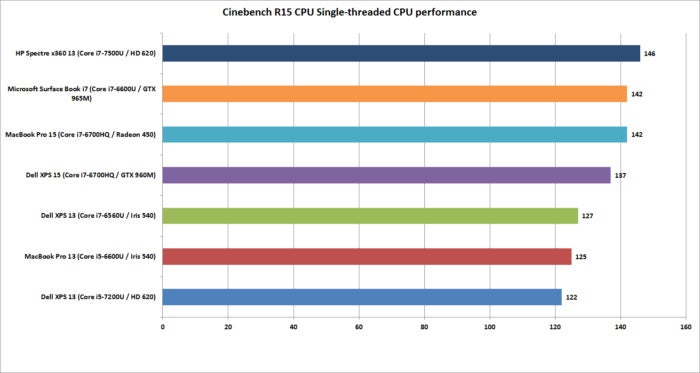 We switched Cinebench R15 into a mode where it measures single-threaded CPU performance. Overall, there's little difference in single-threaded loads.
Cinebench R15 OpenGL performance
Our last Cinebench R15 test measures performance with OpenGL, a popular graphics API used for rendering professional CAD/CAM applications and a few games.
The results here break down into three bands. At the bottom is the new MacBook Pro 13 and an older Dell XPS 13 model. Both use Intel's Skylake CPU and include "faster" Iris 540 graphics with 64MB of embedded DRAM inside the CPU. Both are nearly dead-even, which validates this test for comparing OSX to Windows 10 performance.
Previous Page 1 2 3 4 5 6 7 Next Page