Surface Book i7 vs. MacBook Pro: Fight!
Ali vs. Frazier, Red Sox vs. Yankees, Kirk vs. Khan. And of course, Mac vs. PC.
The second band up is a shocker to me. The pair of 7th-gen Kaby Lake laptops from Dell and HP are a good 25 percent faster than the 6th-gen Skylake laptops in OpenGL. I really expected the Iris 540 laptops to come out in front. The results make me wonder whether this isn't some driver optimization that Intel put into Kaby Lake but not Skylake.
The last band is the graphics performance of the discrete-GPU laptops. Unexpectedly, the GeForce GTX 960M in the XPS 15 finishes just ahead of the GTX 965M in the Surface Book i7. The MacBook Pro 15, with its Radeon Pro 450, finishes in a firm third place. Some MacBook Pro reviews have said the graphics don't measure up in games, while in "work"-related tasks, they rules. So far, I've not seen that to be true.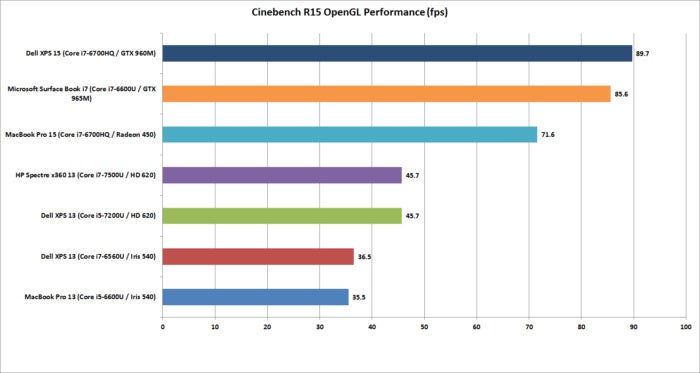 Maxon's Cinebench R15 can also measure OpenGL performance. The MacBook Pro 15's Radeon Pro 450 is competent, but the Surface Book i7 and XPS prevail.
GeekBench 4.01 multi-threaded performance
Another popular cross-platform benchmark is Primate Lab's GeekBench. Experts may disdain its cross-platform results between ARM and x86. Within the same micro-architecture, however, I think it's pretty kosher, especially when running the newest 4.01 version of the popular test. I also have a score to report for the MacBook Pro 13 with Touch Bar, as I cribbed the performance of the version with Core i5-6267U and Iris 550 from Macworld's review.
The first result we'll look at is the multi-threaded performance. Like Cinebench R15, you can see the quad-core XPS 15 and MacBook Pro 15 step away from the dual-core laptops. It's just more proof that if your tasks really need a quad-core chip, pay for it.
On the dual-cores, the redesigned HP Spectre x360 13 again shows the newest 7th-gen Core i7's clock speed advantage over the Skylake models. The Surface Book i7 and MacBook Pro are pretty much dead-even. For MacBook Pro 13 fans that might be something to crow about, because we're talking about a Core i5 MacBook Pro 13 vs. a Core i7 Surface Book.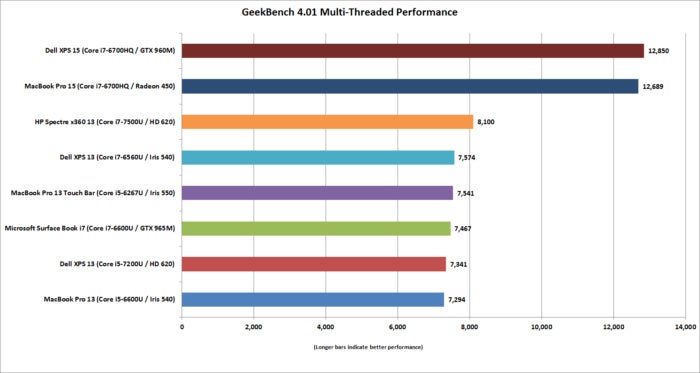 The PC laptops win a moral victory in GeekBench 4.01, but they virtually tie with the MacBook Pros.
GeekBench 4.01 single-threaded performance
Moving on to the single-threaded performance in GeekBench 4.01, there are a few patterns we can discern. First, that 7th-gen Core i7 in the HP Spectre x360 13 is indeed faster in lighter loads, outpacing the Surface Book i7 and the Core i5-equipped MacBook Pro 13 with Touch Bar.
Previous Page 1 2 3 4 5 6 7 Next Page