Surface Book i7 vs. MacBook Pro: Fight!
Ali vs. Frazier, Red Sox vs. Yankees, Kirk vs. Khan. And of course, Mac vs. PC.
The Dell XPS 15 inches over the MacBook Pro 15, but the real takeaway is this: If you don't do many multi-threaded tasks on your laptop, you don't need a quad-core CPU.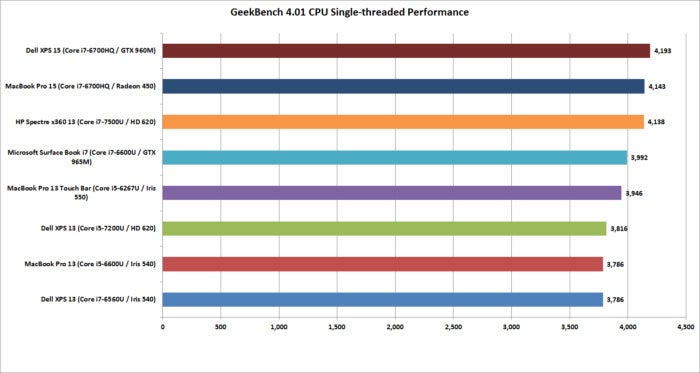 When we used Geek Bench 4.01 to measure single-threaded performance, there was scant difference between dual-core and quad-core laptops in lighter loads.
GeekBench 4.01 OpenCL performance
GeekBench also has an OpenCL test that simulates popular Computer Language tasks on a GPU that would normally be handled by the CPU.
The first takeaway: Unlike in the OpenGL performance tests, the older Iris 540 in the Skylake dual-cores is faster than the Kaby Lake integrated graphics for whatever tasks Prime Labs thinks best represent OpenCL.
The second takeaway: OpenCL loves fast GPUs. The Surface Book i7 and its GTX 965M run away with this test, and trash the MacBook Pro 13. For those who didn't pony up for the MacBook Pro's faster Radeon Pro 455 or 460 GPU, it's hard to watch how thoroughly the the Surface Book i7 smokes the 450-equipped MacBook Pro. The Surface Book's GTX 965M even makes a mockery of the GTX 960M in the XPS 15.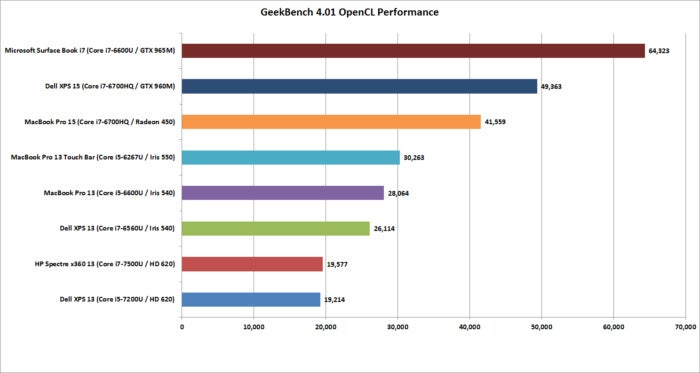 Geek Bench 4.01 can also be used to measure OpenCL, which uses the GPU to perform tasks typically done on a CPU.
LuxMark 3.1 OpenCL GPU Render Performance
When you play the benchmarketing game, one truth that's often overlooked is that no one test defines the entire category. You can't take the results from Geek Bench 4.01 OpenCL and declare it representative of all OpenCL performance.
To balance Geek Bench 4.01, I also ran the free LuxMark 3.1 OpenCL test. This takes a scene and renders it using the LuxRender engine on the GPU (or CPU if you ask it to.) I decided to skip the integrated-graphics laptops because I couldn't wait days for them to render (kidding) and focused solely on the laptops with discrete graphics.
The results put these GPUs a lot closer than the OpenCL numbers from Geek Bench 4.01 would have you believe. In the end, both the XPS 15 and Surface Book i7 again both clearly win. But would this be true if it were a Radeon 460 in the MacBook Pro 15? Probably not.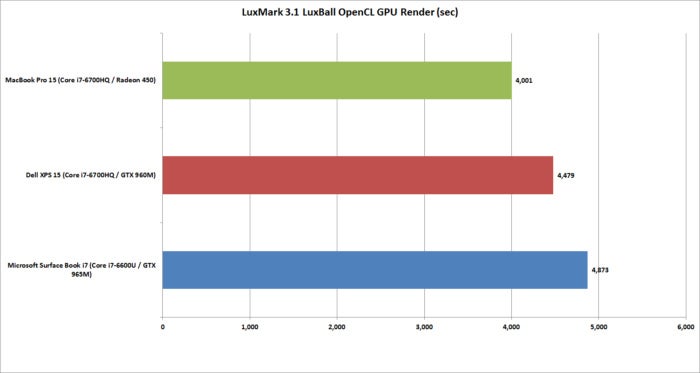 We used LuxMark 3.1 to measure the OpenCL performance of the graphics chips. The higher the score, the better the performance. In this one test, the MacBook Pro 15 is at least competitive.
Previous Page 1 2 3 4 5 6 7 Next Page