Surface Book i7 vs. MacBook Pro: Fight!
Ali vs. Frazier, Red Sox vs. Yankees, Kirk vs. Khan. And of course, Mac vs. PC.
My results on the pair of MacBook Pros were amazingly similar. I started both early in the morning and watched until they died in the early evening. Both were minutes apart.
Apple claims about 10 hours of run time in iTunes. We were pretty close in QuickTime at nearly 9 hours. The variance can be attributed to the video file and the settings the company uses.
For the MacBook Pro 15, I'm going to say that's pretty impressive. The battery life for 15-inch laptops with quad-core CPUs, discrete graphics, and high-resolution screens tends to be mediocre. For example, look at the XPS 15 and its six hours of run time. (Dell offers an XPS 15 battery with about 50 percent more capacity—but it's also heavier.)
Even worse is the Samsung Notebook 9 Pro, another quad-core laptop with the addition of a 4K screen. Ouch. Overall, I'd say the MacBook Pro 15 has decent battery life for a quad-core.
Moving to the MacBook Pro 13, the result is a little more nuanced. With roughly nine hours of run time, it compares well to some laptops, such as the XPS 13 with a QHD+ touchscreen. But there are a lot more PCs ahead of it. You know, like the Surface Book i7, which sets the bar at an amazing 13 hours of video run time. Other laptops with better video stamina include the newest XPS 13, HP's redesigned Spectre x360 13, and even the older Surface Book. When you consider that all three are also generally faster, it's not good.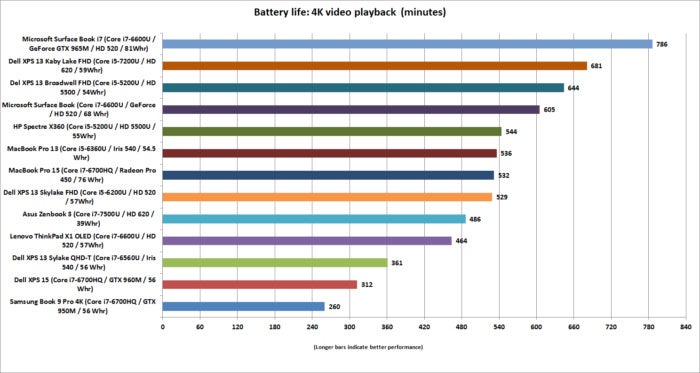 The Surface book i7 sets the bar with 13 hours of battery life, compared to nine hours or so for the MacBook Pros.
The cost equation
The most important question for users isn't related to an obscure OpenCL benchmark but to how much these laptops cost. To help you understand just how much of a premium Apple and Microsoft are charging, I mapped out the cost of most of the laptops that appeared here, along with other configurations worth highlighting.
That top-spec Surface Book i7, formally known as Surface Book with Performance Base, really pushes the boundaries of what people will pay for a dual-core laptop. To be fair, this is no ordinary laptop. It has a 1TB SSD and 16GB of RAM, plus pen support, a tablet mode, and probably class-leading GPU performance. But umm, yeah, 3,300 bucks.
Apple is no stranger to nose-bleed altitudes. When you throw a Core i7, 1TB SSD, and 16GB of RAM into the MacBook Pro 13 with Touch Bar, you're looking at $2,900. And you don't even get the discrete GPU, touch, and tablet or pen support of the Surface Book. Apple's most powerful MacBook Pro 15 tilts the meter all the way to $4,300. Granted, that's with one of Intel's priciest mobile CPUs and a whopping 2TB SSD, but that's also the price of a modest used car.
Previous Page 1 2 3 4 5 6 7 Next Page