Surface Book i7 vs. MacBook Pro: Fight!
Ali vs. Frazier, Red Sox vs. Yankees, Kirk vs. Khan. And of course, Mac vs. PC.
Compared to a "normal" PC, both Microsoft and Apple give you a lot less performance for your cash. The Dell XPS 15, which pretty much aces the new MacBook Pro 15 except in battery life, is $1,400.
Take that Dell XPS 15 and load it up with a 1TB M.2 SSD, 32GB of RAM (which isn't available on the MacBook Pro 15), a GTX 960M, 4K touchscreen, and a larger battery: $2,600. That's only $200 more than what Apple charges for a machine with 16GB of RAM, a 256GB SSD, and the slowest Radeon Pro GPU.
You can do the same with the new HP Spectre x360 or Dell's current XPS 13. Both give you a lot more value than either the MacBook Pro 13 or the MacBook Pro 13 Touch Bar.
Numbers don't lie. Apple's MacBooks are overpriced, and so are Microsoft's premium Surface Book devices. The PC OEMs give you a lot more for your money.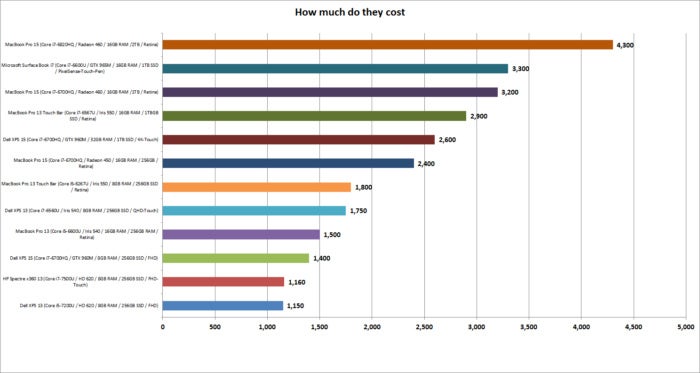 Apple and Microsoft clearly don't provide the value that other PC makers can.
Conclusion
Ten tests and one price comparison later, the PC wins. Again.
That's no surprise. The MacBooks are caught in a tough spot—even if they were running higher-performance configurations. They're both ultra-expensive compared to most PCs, and at the top-end, outclassed in GPU performance by Microsoft's comparably expensive Surface Book i7.
It's not all bad news for the Mac, though. The MacBook Pro 15's battery life is impressive for a 15-inch laptop with a quad-core CPU and discrete GPU. Comparably powerful quad-core laptops we've seen can't touch it in battery life. Even the MacBook Pro 13s do relatively well in battery life compared to a similar PC.
The problem for Apple and Mac fans is PC makers just don't ever stand still. And as we know, Apple seemingly does that now with its Macs.