Switchmate smart light switch review: The fast lane to smart (and simple) home lighting
It's not perfect, but it's the simplest design we've seen.
There are basically two ways to install smart lighting in your home. You can install a smart switch, or you can install smart light bulbs. The problem with smart bulbs surfaces when you install them in lamps or sockets that are controlled by the dumb switch on the wall. Turn off the switch and you'll never be able to control the bulb with an app on your smartphone or tablet, because no electricity is flowing to the bulb.
Smart switches are the better alternative, except that most require a central hub to control them, and—unless you're comfortable dealing with live wires—an electrician to install them. If you're a renter, you can forget about smart switches altogether.
The Switchmate team came up with a better idea: A smart light switch that mounts on top of your existing switch. When activated by a Bluetooth signal or a touch of your finger, a motor moves a simple lever up or down against the existing switch (there's one model for toggle switches and one for rocker switches) to turn the light on and off. The Switchmate can turn control ceiling and bathroom fans—or anything else that's controlled by the switch—as well.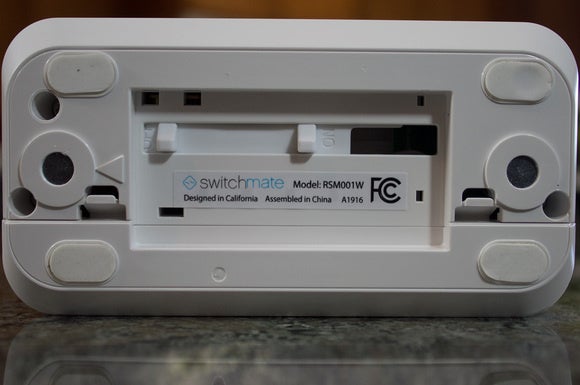 Magnets on the back of the Switchmate attach to the screws holding your existing cover plate in place. Just stick it on; no tools needed. Credit: Michael Brown
Installing the Switchmate couldn't be easier: A pair of strong magnets on the back hold it to the screws on your existing switch's cover plate. You don't need any tools, and you're never exposed to live wires. The Switchmate app (available for Android and iOS devices) steps you through the process and—provided Bluetooth is active on your device—quickly pairs your phone to the Switchmate. I can't overemphasize how easy the Switchmate is to install: You'll spend more time downloading and installing the app than attaching the device to your existing switch. I didn't even have to futz with positioning it over my rocker switch to make it work right the first time.
Was your switch installed upside down, so that the up position is "off" and the down position is "on?" No problem, just click a button in the app and the Switchmate will take that into account and switch up for down. The manufacturer chose Bluetooth Low Energy over Wi-Fi in order to preserve battery life, which is rated at 8 to 12 months.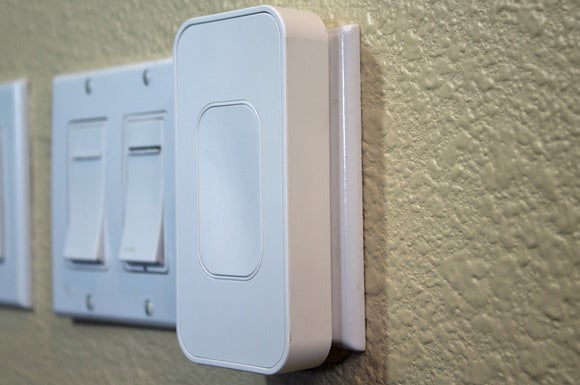 The Switchmate isn't wafer-thin. I would hesitate to install it in a high-traffic area because someone might bump into it and knock it to the floor, possibly breaking it. Credit: Michael Brown