Switchmate smart light switch review: The fast lane to smart (and simple) home lighting
It's not perfect, but it's the simplest design we've seen.
Why it's not perfect
Once installed, you can turn the switch on and off using your smartphone, program it to turn on and off according to a schedule, or control it the old-fashioned way—with your finger. As great as that is, the Switchmate does have some deficiencies.
Most importantly, as strong as the magnets are, there's no way to permanently fix the Switchmate to your existing switch. The Switchmate is just over an inch thick and is slightly less than five inches tall, so it does stick out from the wall. If you—or more likely your kids—bump into it with enough force, it can be knocked off and fall to the floor. If the floor is a hard surface, the Switchmate might break. I dropped it to a carpeted floor with no ill effect, but I didn't try it on my hardwood or tile floors.
The Switchmate app's scheduling feature is exceedingly rudimentary: It consists of simple timers that turn the switch on at a defined time and then off at a defined time. The app doesn't take sunset and sunrise into account, and the only option for creating a schedule is to have the timer repeat: "Every Sunday," "Every Monday," and so on. There's no setting for "Monday through Friday" or "Weekends," and you can have only three timers per switch, so you can't create one for each day of the week and have them repeat to get seven days of events.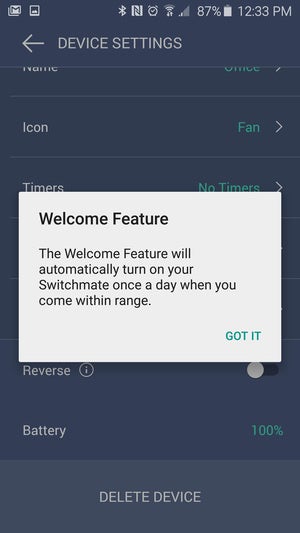 The Switchmate's Welcome Feature isn't all that smart: It turns lights on and off according to the time of day, versus determining your physical location via geofencing.
The app's Welcome Home feature, which turns a light on when you arrive home and off when you leave, isn't based on geofencing—those are simply scheduled events. I usually get home at 5:00 p.m., so I'll program my porch light to turn on at 4:50, so it's on when I approach the door.
Finally, the Switchmate is a simple on/off switch. It won't dim your lights or change the bulb's color, if your bulbs are capable of those features. If you're using smart bulbs, you could use the bulb's app to brighten and dim the bulb, change its color, and even turn it on and off—but needing to use two apps to control one light bulb is stretching the premise of smart lighting in my book.
Should you buy one?
Those criticisms aside, I think the Switchmate is a brilliant product for people who don't want to go through the hassle of installing more elaborate—and more permanent—smart lighting solutions. The scheduling issues I've mentioned should be easy enough to fix with an app update, but providing screws as an alternative to the magnets will be a little more difficult for Switchmate to pull off. The Switchmate team is also working on a smart-home hub that would give users a whole lot more control over their smart lighting.