Taiwan's tech industry tests the waters in wearables, Internet of Things
Acer and MediaTek, for example, have entered into a partnership to create more wearable technologies.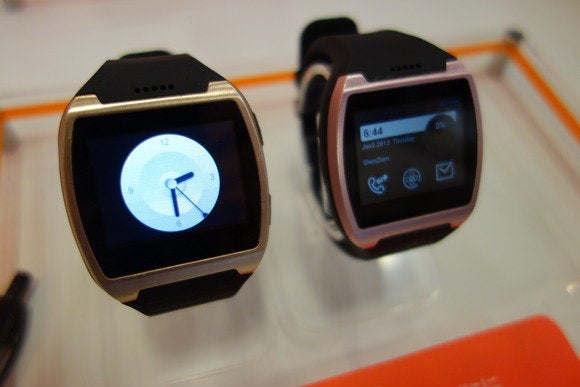 The future of wearables is still anyone's guess. But at this year's Computex show, more Taiwanese vendors are embracing the gadgets, and hoping to bring some clarity to a market that could lift the local tech industry.
On display at the annual trade show are exercise shirts that can track a user's health, smart glasses with gesture controls and dozens of smartwatch models that run Android or synch with a phone. Many of these devices are coming from little-known Taiwanese manufacturers. But bigger companies with strong brands are also eyeing the market, and laying the foundation to seize on emerging opportunities.
On Wednesday, Taiwanese PC maker Acer teamed with local chipmaker MediaTek to develop wearable technologies. Both expect the market to take off soon. In Acer's case, the company wants to help device makers build cloud-based apps for their products. MediaTek is pushing out software tools and reference designs to pave the way for faster wearables development around its processors.
The companies aren't just stopping at gadgets that wrap around the human body. They've also been talking up the "Internet of Things", an industry term that means turning everyday objects, such as household appliances, into smart and connected devices. Already, this is taking the form of thermostats and cooking gear that can be controlled remotely via smartphone.

MICHAEL KAN. MediaTek's smartwatch reference design.
"The Internet of Things will become common," said Stan Shih, Acer's co-founder on Wednesday, adding, "We will build cloud services to enjoy the market opportunities."
It's another sign that Taiwan's tech industry, once rooted in PCs, is moving further away from traditional computing, and reaching for new markets that are just starting to emerge. Some local companies including Acer have been struggling in the midst of shrinking PC demand. At this year's Computex show, Acer talked little about PCs, and instead put the spotlight on its new smartphones and tablets, all the while promoting its new cloud services.
For wearable device makers, the market is expected to grow fast. This year, total wearable shipments will surpass 19 million units, and in 2018, they're projected to reach close to 112 million, according to estimates from research firm IDC.
MediaTek, a major producer of smartphone and tablet chips in Asia, wants its share of the market. Although not well-known in the U.S., the Taiwanese company is big in Asia and sells low-cost processors mainly to Chinese manufacturers. In the wearables space, MediaTek wants to replicate its success and is showing off a smartwatch reference design built with its latest chip.