Unleash the Fury X: Building a powerful, yet tiny PC with AMD's top GPU and APU
AMD just released a new flagship graphics card and APU, so we crammed both into a tiny PC to see how they perform.
To accompany the motherboard and stick with the all-AMD theme, we also grabbed a dual-channel 16GB kit of AMD Radeon Performance Series DDR3-2133 RAM and an AMD Radeon R7 240GB SSD, which were both right around the $100 mark.
AMD doesn't make any cases or power supplies, so we grabbed some goodies from enthusiast favorites Thermaltake and Corsair. The Thermaltake Core V1 is one of the few mini-ITX chassis that can accommodate liquid-cooling setups and dual-slot graphics cards, so we went with the Core V1 for this build. The Core V1 also happens to be fairly affordable, never a bad thing.
To power the rig, we chose a Corsair CX600 power supply. The CX600 is partially modular, affordable, and will provide plenty of juice for a system like this. Some may scoff at the idea of a 600W power supply feeding a flagship GPU and 3.9GHz quad-core APU, but as you'll see later, we had plenty of headroom to spare.
Piecing it all together
The actual assembly process for this build went off mostly without a hitch, which isn't always the case with mini-ITX builds. All of the components played nicely together, and the Thermaltake Core V1 case was surprisingly accommodating despite its relatively small stature.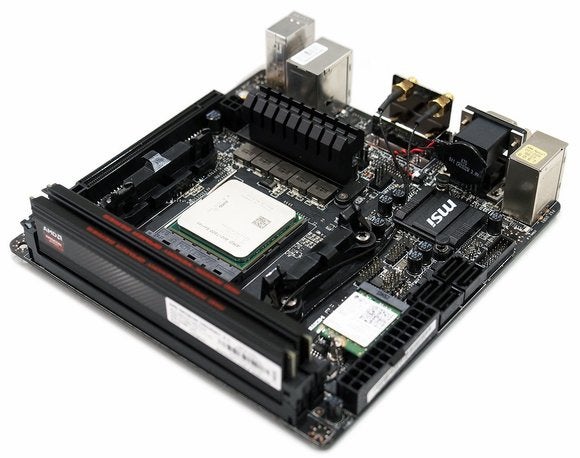 The A10-7870K and 16GB of AMD Radeon-branded memory installed into the MSI A68HI AC mini-ITX motherboard. Credit: Marco Chiappetta
The APU, its stock cooler, and the memory behaved properly in the MSI A68HI AC motherboard, and there was plenty of room for the PSU and its cables in the case, thanks to the mostly modular nature of the Corsair CX600. If you don't force anything, all of the key components—the processor, memory, graphics card, power cables, etc.—are all keyed and can only be attached one way, so it's tough to screw anything up.
Putting the motherboard into the case is also as easy as it gets with a mini-ITX build. With larger cases, you're usually required to install stand-offs that may need to go in various different locations, depending on the type of motherboard being used. With standard mini-ITX stuff, though, it's simply a matter of popping in the custom IO shield that came with the mobo—forgetting to do so is a common PC building mistake, so watch out!—and securing everything in place with a quartet of screws.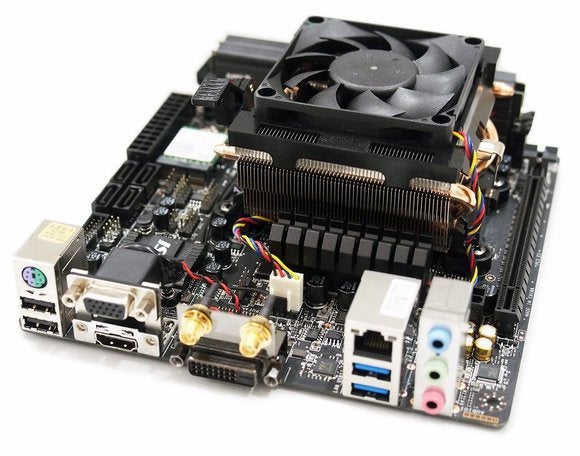 The foundation of this system is a mere 6.7 inches square and a few inches tall, thanks to the mini-ITX form factor. Credit: Marco Chiappetta
The Thermaltake Core V1 has vertically mounted drive trays that are compatible with both 2.5-inch and 3.5-inch drives. We used one for the AMD Radeon R7 SSD.
Previous Page 1 2 3 4 Next Page