Valve Steam Controller hands-on: Opening a new world of PC gaming possibilities
It took three long, intense days of swearing and messing around in menus and playing Portal 2, but it's official—we love the Steam Controller.
More difficult is learning to experiment, to be open to new control schemes. There's a chance some people get the Steam Controller, play a game that's defaulted to the "fake joystick" setup, and give up immediately. I wouldn't blame them. I did it the first night, playing Spec Ops: The Line and losing my temper because I couldn't figure out why it felt so wrong.
But I think this problem will go away over time. Some developers have already implemented great control schemes—Paradox, for instance, has created a custom setup for Cities Skylines that functions admirably. Others won't put in the work, but the community can create and upload custom templates for each game. Whenever Valve's own templates don't get the job done, I have no doubt someone else will put in the time.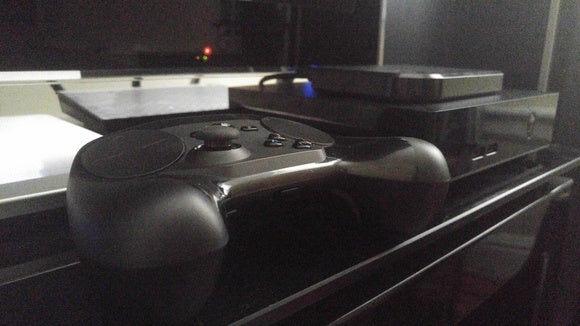 Valve's Steam Controller, Steam Link, and Alienware Steam Machine. Credit: Hayden Dingman
Bottom line
The Steam Machine army and Valve's Steam Link might get most of the attention, but they're ultimately known quantities. Yes, they're made (or at least backed) by Valve and that makes them interesting to the gaming community, but they're just computers. Some are powerful. Some are not. But they are at heart black boxes that play or stream video games.
The Steam Controller is the real story, here. It's an elegant solution to a seemingly insurmountable problem—"How do you play every PC game ever made on a single input device?" As I said, without the Steam Controller there is no Steam Machine.
Give it three days, five days, a week. Put in the effort, and I think you'll be pleased with what opens up to you. Do I think we'll see pros using the Steam Controller to play Dota 2 anytime soon? No. At least not at a high level.
But for a lazy Sunday? Bringing the PC out to your couch has never been easier.
Previous Page 1 2 3 4