Apple Magic Mouse 2 review: Mouse unable to conjure up any innovation
With a lack of input innovations, what does the future hold for the mouse on a Mac?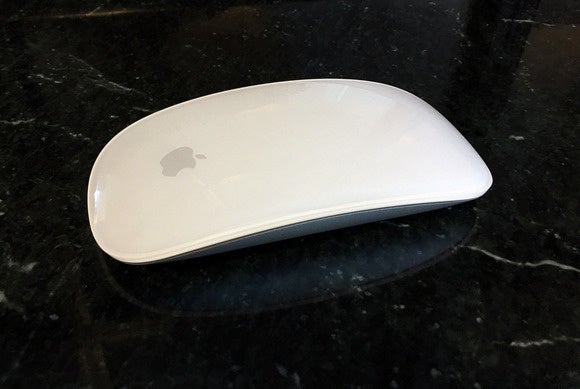 Apple's new Magic Mouse 2 isn't really that much different from the original Magic Mouse. It has major changes that affect how the mouse moves and a new built-in battery. But there's nothing about the Magic Mouse 2 that will make you ditch your current mouse—even if it's an original Magic Mouse.
What's new isn't obvious
The exterior design of the Magic Mouse 2 is almost the same as the Magic Mouse. It's still has a white plastic sliver that rests atop an aluminum case, with no visible buttons or scroll wheel.
Flip the mouse over, and you'll finally see a difference. The Magic Mouse 2 has a built-in rechargeable lithium-ion battery, so it no longer needs a removable battery cover. Where the latch for the cover used to be is now a Lightning port that is used to recharge the battery.

The Magic Mouse 2 (left) has a built-in rechargeable battery, so a battery cover is no longer needed. Credit: Roman Loyola
With the charging port on the bottom of the mouse, it means that you can't use the Magic Mouse 2 while it's plugged in. People have been outraged by this design decision—those same outraged people also don't have the full story about the Magic Mouse 2 or has never used it. Apple has said that the Magic Mouse 2 (along with the Magic Trackpad 2 and the Magic Keyboard) are fast-charging devices; the mouse can get nine hours' worth of battery life in about two minutes. So, in the time it takes for you to visit the bathroom, stand up because your Apple Watch told you to, or go to the kitchen to grab a beverage, your drained Magic Mouse 2 will have a charge that will last a typical working day. Really, the charging port on the bottom of the mouse isn't a problem—but sometimes people need any excuse to be outraged over Apple products. Apple's press release says a fully charged battery can last "about a month or more."

Charging the Magic Mouse 2. Credit: Roman Loyola
Apple changed the plastic rails on the bottom of the mouse. Combined with a lighter weight the result is a smoother, faster feel when you move the Magic Mouse 2, a vast improvement over its predecessor, which had a rough, grinding feel.


No more fussing with Bluetooth pairing: When you connect the Magic Mouse 2 to your Mac using a Lightning cable (included), El Capitan automatically creates a Bluetooth pairing.