Apple Magic Mouse 2 review: Mouse unable to conjure up any innovation
With a lack of input innovations, what does the future hold for the mouse on a Mac?
Been through this before
The Magic Mouse 2 (top) is lighter than the original Magic Mouse.
Much of what I said in my review of the Magic Mouse nearly seven years ago holds true for the Magic Mouse. The Magic Mouse 2 has an extremely low profile, so if you like to rest the lower part of the mouse against your palm, you may not be able to do so with the Magic Mouse 2.
The Magic Mouse 2 still has only two buttons. For many users, that's enough, but for some power users, it's not. There's no physical separation between the right and left buttons, but I never accidentally pressed the wrong button. When you click a button, the whole top of the mouse presses down with an audible click sound.
Multi-Touch was introduced in the Magic Mouse, and it's still in the Magic Mouse 2. Multi-Touch is relied on for scrolling, going forward or back in iPhoto or Safari, zooming, and more but there are no new gestures. In my Magic Mouse review, I wrote, "I'm left feeling that Multi-Touch on a mouse has the potential for more." Consider that potential still untapped.
One pet peeve I had with the Magic Mouse—and thus, still have with the Magic Mouse 2—is that its symmetrical design makes it impossible to tell by touch if the mouse is positioned with the optics at the top. I move Macs around a lot in the Macworld offices, and if I had a dollar for every time I started using a Magic Mouse upside-down, I'd probably be able to buy a new Magic Keyboard and still have cash left over.
Magic Mouse 2 requires OS X El Capitan and Bluetooth. I tried to connect to a Yosemite Mac to see what would happen, and the Mac didn't recognize the Magic Mouse 2 at all.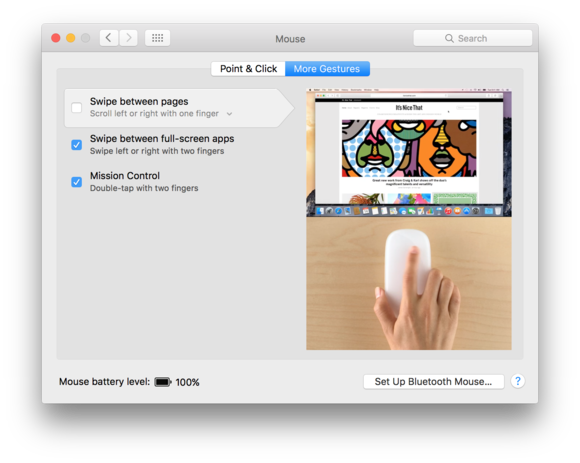 The Multi-Touch gestures that were introduced with the original Magic Mouse are still available with the Magic Mouse 2.
The state of the mouse
The Magic Mouse 2 doesn't offer anything innovative as far as user input goes. Apple offers Force Touch support in El Capitan, and to take advantage of it, you need the new Magic Trackpad 2 or one of the current MacBook Pro models or the MacBook that's equipped with a Force Touch trackpad. (The current MacBook Air doesn't have a Force Touch trackpad, but don't be surprised if it's introduced in a future Air upgrade.)