Best Pokemon Go phone ever? We think we just created it
It's just a design exercise, but we think we've landed on the best possible hardware experience for Pokémon Go.
I've been playing Pokémon Go for the last three weeks—long enough to collect 53 different Pokémon, develop frenemy relationships with Pidgey and Weedle, and land on some specific feelings about the features and design of the perfect Pokémon Go phone.
Would Nintendo ever launch a hardware spin-off, let alone a full-fledged Pokémon Go cell phone? We have to assume the company is at least spitballing ideas. And if Nintendo does decide to release a Poké-optimized hardware container, then it better move quickly. The game is a runaway hit, but when's the last time you played Candy Crush?
Yeah, exactly.
And with that, I give you the ultimate phone optimized for Pokémon Go gameplay.
It has to be Android
Sooner or later, you'll shop for something inside the game. So why not get those Poké Balls and Lures for more or less "free" by spending money earned through the Google Opinion Rewards app? Google's app pays you to take random opinion surveys, keeping your Play account packed with loose change. The app is only available to Android users, so making this phone an Android exclusive makes sense. Plus, come on. Apple isn't partnering with anyone on a silly gaming phone anytime soon.
Free Pokémon Go data
T-Mobile already offers one year's worth of free Pokémon Go data. It's a compelling value-add, and that deal needs to be extended to all carriers that sell the ultimate Pokémon Go phone, if only to spike hardware sales and drum up interest. Shoot, while we're at it, let's make sure they give away free Pokémon Go data for eternity.
16GB of storage
Yes, we'd spec this phone with only 16GB of storage, simply to keep costs down. 16GB can easily accommodate storing Android and other system files; Pokémon Go itself (it's only 128MB upon initial install); countless more Pokémon Go spin-off apps; and a nice collection of music. But storage for a bunch of rando apps and video? Nope. You're spending most of your day playing Pokémon Go, remember?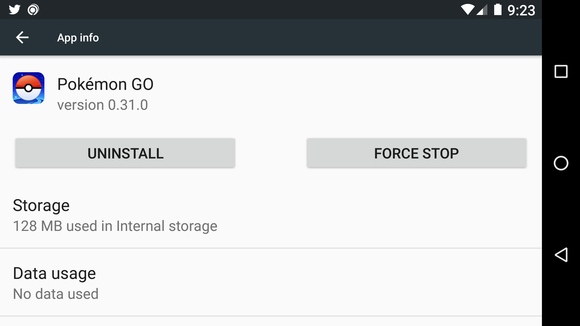 Note the amount of storage the app takes up when you first install it. So of course you can get by with a 16GB phone.
A full Pokémon Go experience, pre-installed
Obviously, the Pokémon Go app would come ready and waiting on the phone's home screen. You'd also find custom Poké-themed wallpapers, and a dedicated app store (for lack of a better term) that points to Pokémon Go spin-off apps. Just like Samsung's Galaxy Essentials store points to Samsung ecosystem downloads, the Pokémon Go Store would point to a custom Pokémon Go keyboard with Pokémon emoji and stickers; the inevitable Pokémon Go 2 and Pokémon Go In Space apps; and of course the Pokémon Go Kill'em All Deathmatch spin-off.