Coming soon to the office: iOS 11's augmented reality
With the official launch of iOS 11 this week, Apple not only introduced a more PC-like feel to its mobile devices, but included an SDK supporting augmented and virtual reality, which has enormous potential for enterprise use.
With the official launch of iOS 11 this week, Apple has introduced more PC-like capabilities to its mobile devices – especially the iPad – so workers can more often use them for daily tasks.
While that's good news for companies focused on a mobile-first strategy, what could be an even greater boon for business is iOS's native augmented reality (AR) play, via its ARKit SDK.
While Apple's AR move may appear at first blush to be focused on consumers with animated emojis and masks, native AR toolkits open up a world of possibilities for business users and app developers, according to IDC analyst Bryan Bassett.
ARKit is purported by Apple to allow for "fast and stable motion tracking," which should make virtual objects look more realistic as they appear in a physical space, enabling them to sit flat on tables and other surfaces.
Applications such as language translation, navigation and spatial awareness, contextual blueprints and manuals are all currently the focus of many AR software platform developers, none of which are aimed at consumers, according to Bassett.
Allowing businesses to leverage AR with devices they have already invested in and deployed – namely iPhones and iPads – will only add to AR's growth in the enterprise.
"Retail, manufacturing and field workers have a lot to gain through the use of AR; so making ARKit native to iOS going forward will only bolster AR's credibility in the workplace," Bassett said.
Various industries have already experienced AR's possibilities through the Windows HoloLens ecosystem and early on with ARKit brands, such as Ikea and Kohl's, said Carolina Milanesi, an analyst with Creative Strategies. Both retailers have used ARKit to allow consumers to fit furniture or other items in their home before purchasing them.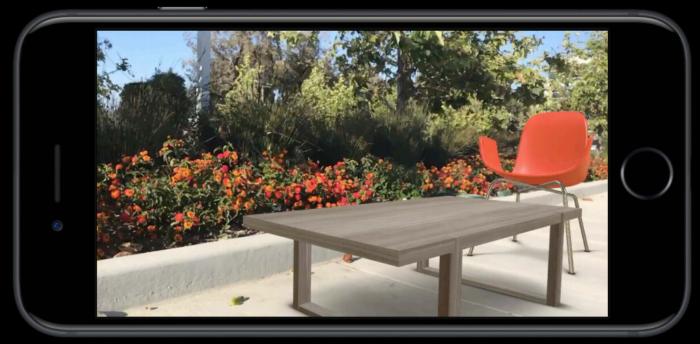 Apple
An example of iOS 11's AR capability. A virutal table and chair placed on a backyard patio as viewed on an iPhone.
"Blending digital and real appeals to verticals such as ecommerce and travel as well as health," Milanesi said.
While AR is something many enterprises are exploring, it is also a technology that most companies have no idea how best to exploit, according to Jack Gold, principal analyst at J.Gold Associates.
While training and some service operations seem like natural fits, it's not as easy to deploy as it should be, Gold said, and it's also not clear what the best ergonomic deployment would involve – a phone or some form of headset/glasses.
"While ARKit does provide enterprises with a way to develop AR solutions, they would be targeted at the iPhone environment, and not all companies think that's the preferred solution," Gold said. "A cross-platform capability would suit them much better, although the Android solution (ARCore) is also proprietary at this point. And you will see other vendors of smartphones join in the fray by introducing competing products to Apple's over the next 12 months."