Cosmos Rings for Apple Watch puts a slick role-playing quest on your wrist
The Final Fantasy maker's exclusive new game plays to the Watch's strengths.
The Apple Watch hasn't yet become the wearable gaming sensation that some hoped for, with an irregular stream of interesting games and little spotlight from Apple itself. Games like Lifeline and Runeblade have shown that there's potential to create compelling experiences around the Watch, but for the most part, larger publishers haven't taken much interest.
However, that might be changing. In July, Square Enix—the storied publisher behind the legendary Final Fantasy and Dragon Quest role-playing series—released Cosmos Rings, its first-ever Apple Watch exclusive. True to the publisher's legacy, Cosmos Rings is a role-playing adventure, but it's one that is tuned to the strengths and limitations of the Apple Watch: it's simplistic and playable in tiny bursts… or you can just let it play itself most of the time.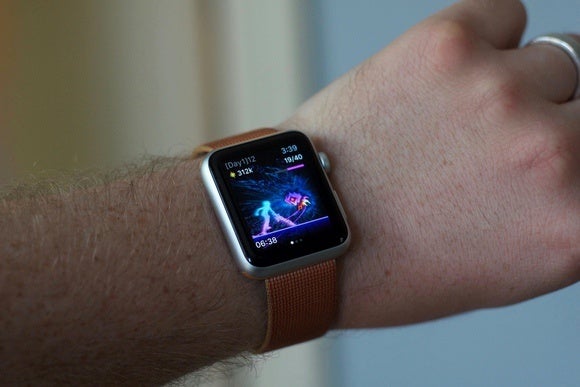 Glance over for a quick burst of action during the day with Cosmos Rings.
It's also nicely polished and presented, although the premium price point ($6 now; $9 once August ends) might surprise some mobile gaming fans. Cosmos Rings has been rocking my wrist since it lunched, and I've been pulled into its progressive grind more so than with any other Apple Watch game to date. Here's why it's worth a look for wrist-based gaming fans—and a positive sign for the future.
Cosmos from Chaos
Cosmos Rings is apparently spun off from the Chaos Rings series, which was Square Enix's first major attempt to create original RPGs for iOS devices. Luckily, you don't need to be familiar with the four previous games in that series, which is smart, since the first three aren't even on the App Store anymore—only Chaos Rings III remains. So much for franchise-building!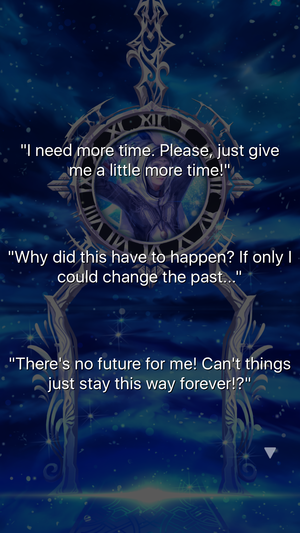 Your iPhone sets up the story, in which a fateful argument shapes the adventure.
While the game is played entirely on the Apple Watch, you'll need your iPhone for a few minutes to kick off the storyline. The God and Goddess of Time oversee the passage of time across the universe, but disagree over whether they should ever intervene to help humans in peril. When the God ultimately does stop time, the Goddess shatters into pieces that fall into the Rift, which the God of Time must then explore to bring back his beloved.
From there, you'll swap over to the wrist and guide the God of Time through battles as he tries to restore the movement of time and recover the shards. This takes place over the course of several in-game days, each with 12 "hours" worth of monsters to slay. Cosmos Rings takes its cues from roguelike games such as FTL: Faster Than Light and The Binding of Isaac, in which your character can die permanently and you'll be forced to start over again. Sounds rough, right? The upside is that you gradually get stronger and earn new abilities, which enhance and empower each subsequent run.