Cosmos Rings for Apple Watch puts a slick role-playing quest on your wrist
The Final Fantasy maker's exclusive new game plays to the Watch's strengths.
It's not the only active perk, either, as you can also rewind time to effectively reset the clock. Rolling back the digital crown lets you go back to the start of the current "hour" or back to any previous one, thus adding a big block of time in the process.
It's almost too beneficial, in my initial testing: You can do it multiple times in a single adventure, and as far as I can tell, there's no drawback to using the game-extending feature. In fact, the Help guide in the iPhone app suggests you'll find hidden relics and items via time travel! It's like a massive reward for being mindful of the game, as opposed to just letting it play out on its own.
Ringing endorsement?
Still, I like the choice provided by Cosmos Rings: You'll still make slow and steady progress simply by checking in a few times during the day, or you can spend a couple minutes really playing it and significantly enhance the rewards. It's an ideal fit for your Watch, then, as it's always there running in the background, and you need only the main screen and a couple of menus to get the full experience. Even little story nuggets pop up as you explore new hours and days in the game, although the ever-upward grind really is the core of the experience.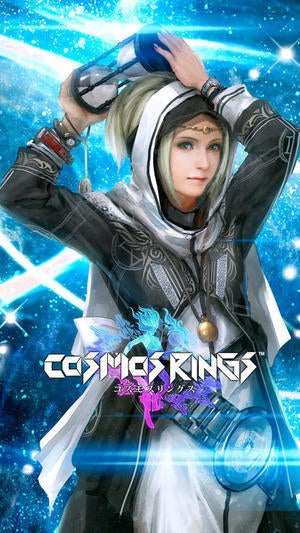 Cosmos Rings' time-centric premise and gameplay elements are certainly a thematically appropriate fit for the Apple Watch.
Cosmos Rings does have a couple of the common issues of Apple Watch games, even if it runs natively on the device. It's sluggish to respond at times, both to taps and spins of the digital crown, and can take several seconds to refresh its status when you fire it up after not paying attention for a while. And having to keep the screen on during those new Reaper battles or during the last three minutes of your run can be a bit irritating.
On the other hand, Square Enix's first Apple Watch exclusive is attractive, and it's a new benchmark for what's possible on the tiny screen. It uses detailed pixel art, but rather than spotlight retro-fantasy heroes (like in many Square Enix classics), the graphics showcase futuristic, neon-heavy battles that dazzle on the wrist. Add in occasional artwork stills for the story segments and it's surely the most impressive-looking game available on Apple Watch.
But it's also $6 to $9, which will probably shock some prospective players. That's a reasonable price to pay for a game you might enjoy over the course of several months, but if you grab it expecting a more expansive experience for the money, then you may feel shortchanged. The free Runeblade hits some similar notes, in terms of furthering a light role-playing quest through small interactions and gradual improvement over time, but I've found Cosmos Rings to be a more engaging effort. You'll pay a premium cost, but this is also a premium game built for the wrist.
Previous Page 1 2 3 4 Next Page