Face ID on the iPhone X: Apple releases Face ID white paper and support document
Apple introduced Face ID with the iPhone X, a new way to secure the phone. You have questions and we'll have the answers in this FAQ.
Live depth mapping is also used for live tracking for Animoji, the talking animals heads—and piles of poo—that match your facial expressions and lip movement, and other selfie special effects, and is provided to third-party developers. But live depth mapping doesn't offer up raw sensor data that would let a developer re-create a Face ID map.
How do I unlock with Face ID?
The phone isn't scanning all the time, thank goodness! Instead, you'll need to wake the phone with one of several methods, which includes rise to wake or tapping the Sleep/Wake button or an app or Apple service requesting authentication. Then you'll look at the phone. Apple says the infrared sensors should penetrate sunglasses, but your eyes need to be open—so kids can't unlock the phone of a sleeping parent by sneaking into their room, unless said parent sleeps with their eyes open.
To avoid unintentional unlocking, Apple says Face ID is "attention aware." If you're not looking at the phone attentively—that is, you're looking away or engaged in an activity on the phone's lock screen—it won't perform an unlock operation. This awareness can be turned off by a user as an accessibility option. (Thus a sleeping parent with eyes open would also have to be looking intently!)
Apple says that Face ID can be used in a wide variety of lighting conditions, including dark rooms. On one diagram of the iPhone X, Apple shows a "flood illuminator," which conceivably provides infrared illumination in the dark to aid the TrueDepth system. No visible light is used, so the scan will be invisible in all lighting conditions.
Over time, Apple will create temporary updates to your Face ID profile for good matches that aren't perfect to keep it up to date. But it warns these updates are only good for a "finite" number of unlocks, meaning it expects changes to your face to either revert to the mean—you changed eye shadow and eyebrow shape and change back, or grow a mustache and shave it?—or you will have to re-enroll your face. The details aren't clear.
Interestingly, if you fail to unlock your phone with Face ID but the failure was iffy—close, but not close enough of a match—and then you immediately enter your passcode successfully, Apple says it will take a new capture and adapt the stored Face ID profile with it. It will retain this new information for a period of time as with other facial changes above, but it will also discard it if you stop matching against the changes and look like your old self again.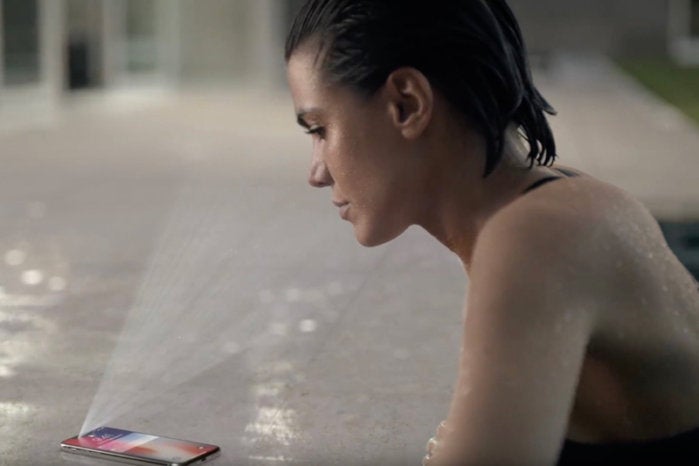 Face ID doesn't actually emit any light. The light you've seen in Apple's promotional materials is for illustrative purposes only. Credit: Apple
Previous Page 1 2 3 4 5 6 7 8 Next Page