Face ID on the iPhone X: Apple releases Face ID white paper and support document
Apple introduced Face ID with the iPhone X, a new way to secure the phone. You have questions and we'll have the answers in this FAQ.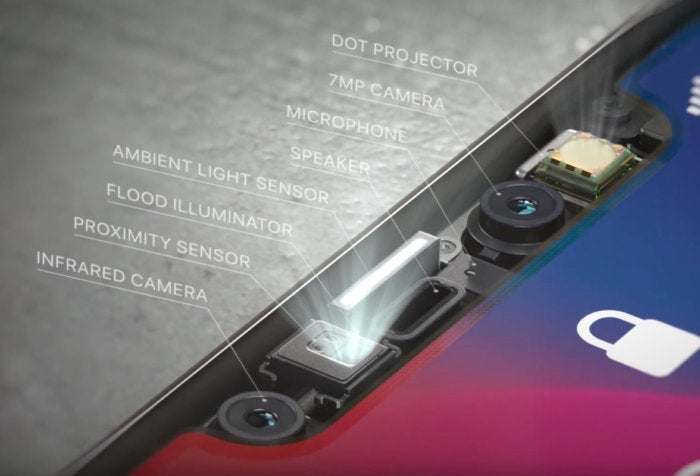 Apple calls its hardware setup for Face ID the "TrueDepth Camera System." Credit: Apple
How will Apple improve facial recognition if it keeps all Face ID matches private to each iPhone?
We assume it will keep testing and improving its neural network, as machine learning only gets better with bigger training sets. But it also mentions in its white paper something called Face ID Diagnostics. This will aid its customers who can't get Face ID to work reliably, and who are willing to send diagnostic data back to Apple, which can then obviously improve its algorithms.
The diagnostic mode requires a lot of consent:
Apple has to send a cryptographically signed request to authorize enabling Face ID Diagnostics.
Once enabled, the existing Face ID is enrollment is deleted and you set up a new one.
All unlock attempts are captured for 7 days and then it stops.
You can review everything captured, and aren't required to send it to Apple, and can approve specific images instead of all of them. Images you reject are deleted immediately.
Any images you approve are encrypted before transmitting, and then deleted from your iPhone.
Face ID Diagnostics automatically ends after 90 days if you don't review image and approve any images. It can also be disabled manually.
It's cold (or hot), and I'm wearing something on or near my face. Will my accoutrements prevent Face ID from working?
Apple says in its white paper that in addition to making sure it recognizes faces around the globe, Face ID can also handle "hats, scarves, glasses, contact lenses, and many sunglasses." Infrared can penetrate most sunglasses to identify an attentive unlock.
I was in an accident and suffered a facial injury. Am I locked out of my iPhone?
No. Your passcode is always the key to unlock your phone. Face ID (and Touch ID) are a convenience as relates to all iOS purposes. You can disable and re-enroll in Face ID with the passcode as well. (We received this question from a future iPhone X buyer. And we're sorry to hear about the accident.)
Is Face ID more annoying to use than Touch ID?
That's entirely subjective, but if you prefer to unlock your phone without paying much attention to it, and have gotten used to a smooth sequence of finger slip and touch and press to unlock without even looking at your phone, you might find Face ID much more irritating than Touch ID. Some people dislike the Touch ID sequence, and would prefer a different method that involves less interaction, and Face ID might be the ticket.
Previous Page 1 2 3 4 5 6 7 8 Next Page