Forget the stickers: iOS 10 turned iMessage into a platform, and that's more important
Messages in iOS 10 opens to developers for the first time. That's major.
"This is a monumental improvement in discovery," Spiridellis said. "If one of our users sends content to someone today in iMessage, there's no link back to JibJab. People don't know where that content came from or how to get it for themselves."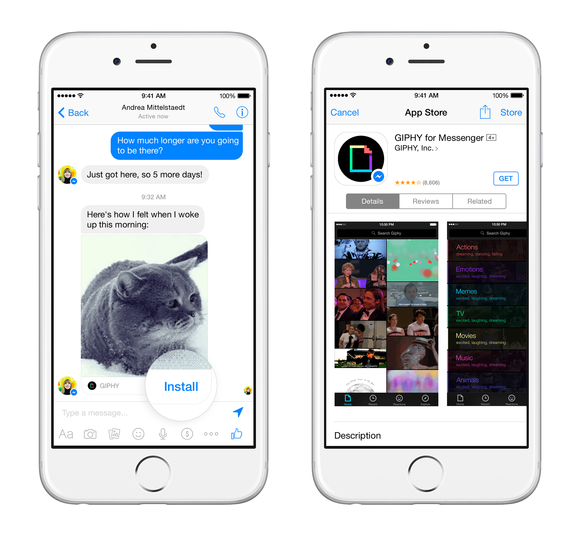 App discovery in Facebook Messenger: If you send someone a JibJab or Bitmoji, that person is also prompted to install the app into the Facebook Messenger platform.
Facebook also used JibJab to demonstrate their Messenger app platform at F8 in 2015. Spiridellis said JibJab is platform-agnostic, but Apple has a clear advantage because its tools are built in at the OS level.
Apple isn't really trying to compete with Facebook Messenger or Snapchat or any other messaging app, and it doesn't need to. Addictive apps keep people using their iPhones. But Apple's newly open iMessage platform has the potential to turn Messages into a universal hub for more than just messaging.
First come the stickers
A cautiously open iMessage platform could herald a centralized app where you not only send messages with stickers and giant emoji, but also use Apple Pay to transfer money to friends and shop from brands. The Siri SDK launched at WWDC might signal the onslaught of iMessage chatbots.
OK, those days are a ways off, if they're coming at all, but Apple is clearly taking cues from Facebook Messenger and apps like WeChat, which is popular in Asia.
"WeChat has become a hub for all of these different services in Asia and that's never happened here in the U.S," JibJab CEO Spiridellis said. "I think Apple's opening up iMessage seems like the clearest opportunity for developers to take advantage of the fact that Messages is gonna become a hub for all sort of experiences."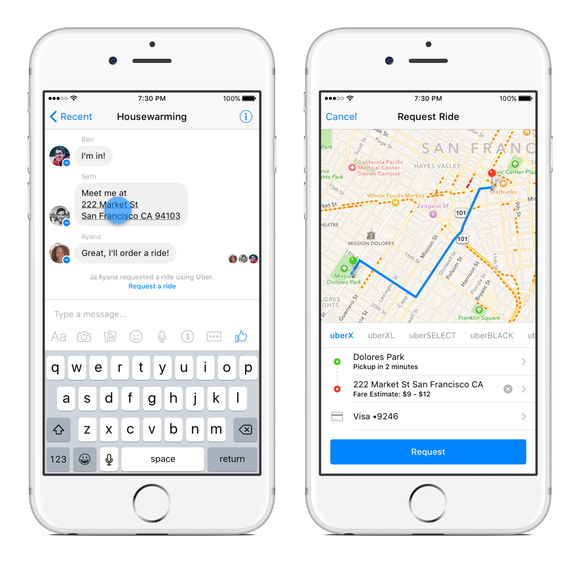 Facebook
Stickers and GIFs are cute and all, but Facebook Messenger also has useful third-party integrations, like ordering an Uber right inside the app.
Facebook's stand-alone messaging app has more than 900 million monthly active users sending messages, stickers, money, and more without ever leaving the app. Some of that functionality is enabled using other apps that are plugged into the Messenger platform, which launched last year. Tencent's WeChat has more than 700 million monthly active users, mainly in China, which is where Apple wants to dominate, and is also a platform for third-party developers.
It's unclear exactly how many people use the Messages app, though Federighi said during the WWDC keynote that it's the most frequently used app on iOS. Given that Apple has a base of more than a billion active devices, it's safe to say a good chunk of them still use iMessage or send SMS messages through the Messages app, even if they use over-the-top apps like Facebook Messenger or WeChat, too.