Hands-on: Google's Motion Stills app makes Live Photos better and easier to share
Transform those moving pictures into GIFs or movies that you can use to dazzle others with your adorable children and pets.
The iPhone's Live Photos bring a magical sense of motion to your images. With just a press on the screen the photo comes to life, with children running and cats leaping through the air.
But the frustration with the feature is difficult it is to share them. You have to go for a third-party app if you want to share all your cool creations outside of Apple's ecosystem.
And unless you're a surgeon, there's a good chance your brief videos are fraught with shakiness. It's no fun for your viewers to get motion sick looking at your creations.
Google took it upon itself to solve these issues with a new app called Motion Stills. It lets you tap into Google's video stabilization technology to freeze the background, so the main subject stands and is the focus of the GIF.
Going stable
As an example, the following was originally a Live Photo that was a little shaky in the background thanks to the photographer (me).

The background is nice and stable thanks to Google's Motion Stills app.
Comparatively, the following GIF was created with Google's app without the stabilization magic. Notice that the GIF is much shakier, particularly if you look at the plants and pool fence in the background.

This GIF is too distracting because of all that shakiness in the background.
Google's technology makes the GIF a vast improvement. It'll ensure that no one mistakes your magical photos for a clip from The Blair Witch Project.
If you want to dazzle your friends and family, here are some details about what you can do with Google's new app in order to make your own cute GIFs and movies.
Gettin' GIF-y with it
Once you launch Motion Stills, you'll jump right into a vertical filmstrip of images that are culled from your Live Photos. Tap one that you want to work with, and then you'll notice a semi-split circle icon on the bottom left (it's the same as the logo on the app's icon). Touch that to see the GIF without the motion stabilization, and you'll probably notice quite the difference.
You can also kill off the audio by touching the volume icon.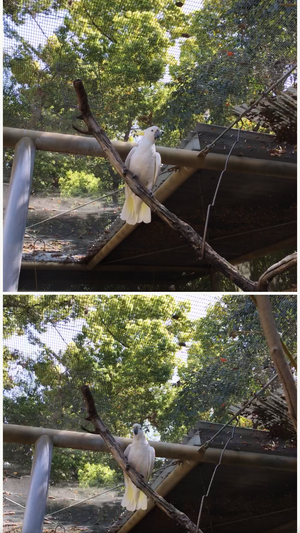 Scroll through your Live Photos, make a quick edit, and then send it off to the cloud or a social network.
After choosing whether to go with a silent and/or stabilized GIF, touch the sharing button (as we've seen before, Google has eschewed Apple's design by going with its own icon) to share the image as a GIF or MOV video clip.