Hands on: The OneCompute Moto Mod could turn your Android phone into your PC
It's like Windows 10 Continuum for Android! Start worrying, Microsoft.
Most Android tablets use MHL to reproduce an Android display onto an external monitor, but "MHL has limitations," Motorola executives said. For one thing, MHL can be laggy. That might be because MHL also supports both 5-pin and 11-pin connectors, and most manufacturers haven't done a good job of telling you whether the phone or tablet actually supports MHL, let alone which connector it supports.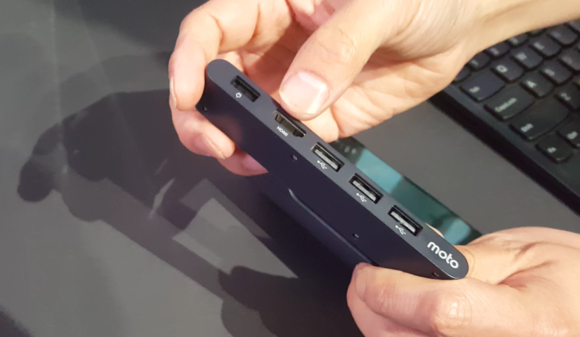 Mark Hachman Motorola's dock uses USB ports and an HDMI connection.
Motorola built its own dock, which boasts three USB 2.0 ports, an HDMI output, and a power connector—all connected to the receiver via a short cable. The external receiver's important because it includes a charging plate, wirelessly charging the phone as it communicates with the display. Conceptually, the whole setup is pretty ungainly—data is passed from the phone to the Mod to the receiver to the dock to the display via an HDMI cable—but it seemed to work in practice.
A functional desktop interface
Connected, the Moto Z displayed a desktop similar to that of Android tablets like the Samsung Galaxy series, with an few key icons (phone, contacts, email) at the bottom of the screen, and a familiar array of icons at the top. The only hint that the setup is somewhat unusual are the three familiar Android buttons—back, home, and the menu key—that are tucked into the corner of the screen, rather than the bottom.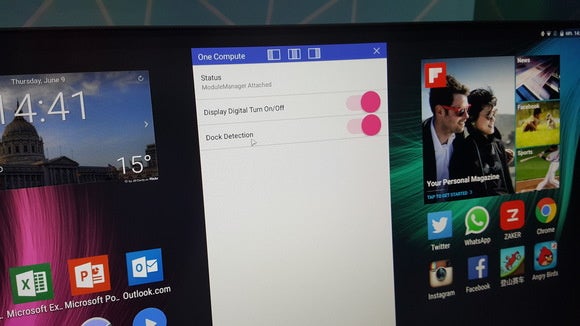 Mark Hachman The Motorola OneCompute app, which manages the hardware.
It's not exactly clear what changes Motorola made to Android to enable OneCompute, though the company says they were minimal. Certain tweaks, however, are very Windows-like: Windows had options to snap it to the left, right, or top of the screen. Apps could be windowed, and information cut and pasted from app to app. Applications could also be run inside standard windows, though this could have just been a standard Android N implementation.
Otherwise, Motorola doesn't seem to have done too much to facilitate OneCompute. The company authored a OneCompute management app and built separate AMP Connect and AMP Disconnect apps. (A demo video that the company created—and which is in our attached video, above—shows that one of the advantages of OneCompute is the ability to dock and undock a video, while streaming, without needing to restart it.)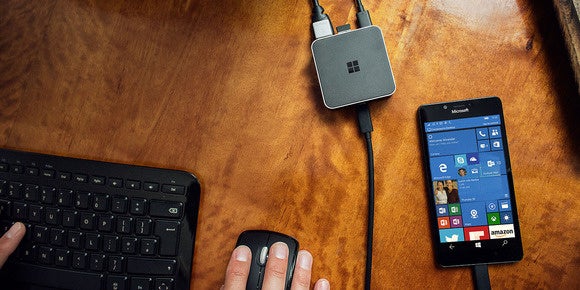 Microsoft The competition: Microsoft's Display Dock performs a smiliar function, but for Windows.
Consumers can be finicky about such things as plugging in cables, and the $99.99 price Microsoft charges for its wired Display Dock means that probably only a tiny subset of users bought one for work and home. Plopping your phone onto a wireless charging dock that also connects to your monitor, though, seems a lot more appealing.