Hands on with the iPhone 6s and 6s Plus
Its Live Photos and 3D Touch are especially delightful.
3D Touch
3D Touch, you ask? Yup, that's the other big feature exclusive to the iPhone 6s and 6s Plus. It works just like Force Touch on the Apple Watch—you press harder, like you're trying to push right through the screen, and that's a different kind of touch than a regular swipe or tap. This will let you interact with apps (from Apple and third parties) in new ways.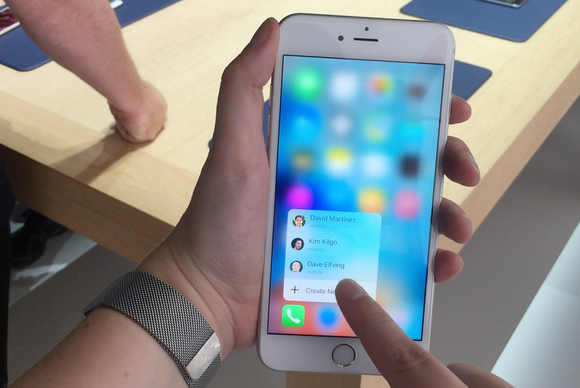 3D icons on the home screen for some quick shortcuts, like to your three most recent contacts. Credit: Susie Ochs
For example, you can 3D Touch icons on the home screen for shortcuts to certain features: The Facebook icon hides shortcuts for changing your status or checking in, while the Camera app's icon holds options for taking a selfie or shooting a new video. If you attempt to use 3D Touch on an icon that doesn't support it (like Health), you'll see the icon pop a little to let you know that the 3D Touch did in fact register, but nothing else is going to happen.

Here's the "peek," a preview of a Mail message. Don't lift your finger or it'll go away, so not quite as handy as Quick Look in OS X, for example. Credit: Susie Ochs
3D Touch gets even cooler once you open apps. You can use it to preview a new message in Mail, but it's not quite as handy as Quick Look in OS X, because the preview disappears when you lift your finger back off the screen. During my hands-on time, I found myself 3D Touching a message, and then lifting my thumb to see what it says. But of course, the message preview vanishes, so I 3D Touch it again. And again, and again. It would be quicker to just tap the message to open it.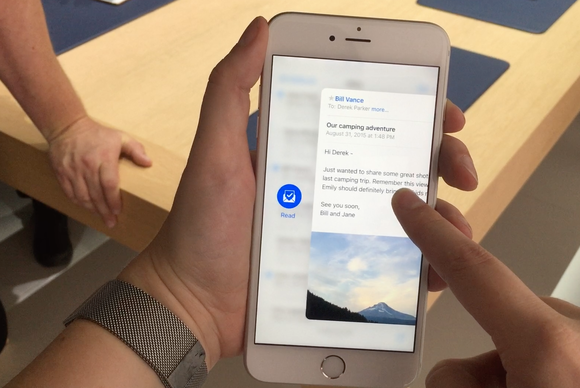 Swipe the peek right to mark a message as read, or left to delete it. The action happens the second you lift your finger. Credit: Susie Ochs
But the preview isn't really for reading, it's for quick triage. Apple calls the first preview the "peek," and if you don't lift your finger, you can swipe up, left, or down for options. Swipe right to mark the message as read—you'll see a Mark As Read option as the preview slides to the right to remind you what will happen when you lift your finger.
Swipe left to delete the message. Swiping the message up produces buttons to reply, forward, flag, remind you about the message later, or move it elsewhere. Since you need to tap those buttons separately, the swipe-up move does fix the preview window in place.
Previous Page 1 2 3 4 Next Page