Hands on with the iPhone 6s and 6s Plus
Its Live Photos and 3D Touch are especially delightful.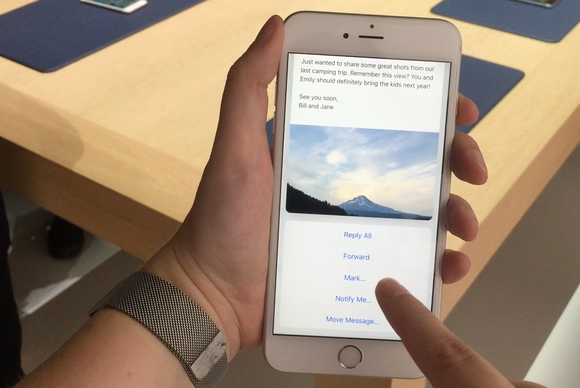 Swipe the preview up for the rest of your options. Now you can lift your finger in order to tap one of these buttons—the preview will stay onscreen while you decide. Credit: Susie Ochs
After the "peek," if you continue to press hard, you'll open the message, a move Apple calls the "pop." If you peek and don't pop, the message doesn't get marked as read, so peeking in is a quick way to see if an email is the droid you're looking for without having to go back and mark it as unread if it wasn't.
3D Touch does tons of things in Messages, too: Hard-press a name for options to call, FaceTime, add to contacts, and so on. Hard-press URLs to peek at them, and again to pop into Safari. Hard-press street addresses to see them on a map, or dates to make a calendar appointment. This should prevent a lot of switching back and forth between apps when you're making plans with groups of friends.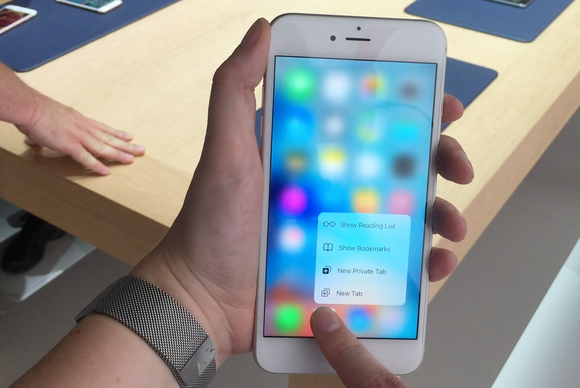 Safari's Reading List will never be more than a 3D Touch away. Credit: Susie Ochs
As with Live Photos, the 3D Touch feature is open to developers. For example, Facebook's app icon has shortcuts to post a new status or check in right from your home screen. Instagram lets you 3D Touch everything, peeking into thumbnails and user profiles anywhere in the app. I asked if 3D Touch could be used to provide haptic feedback for an iPhone keyboard, and the rep didn't think that was in the API just yet, but wasn't totally sure. Still, even as it is today, I think 3D Touch has the potential to make Apple's large-screened phones easier to navigate with one hand.
Early adopters of the Apple Watch had mixed feelings about Force Touch on that device. It's unbelievably handy, but not exactly intuitive—there's definitely a long learning curve before your brain remembers where to Force Touch and what you'll find once you do, since every app can use it differently. In my short hands-on time with the iPhone, I had the same problems, but hopefully once the iPhone 6s is in my possession full-time, 3D Touch will quickly become second nature.
Camera and hardware
The iPhone's rear iSight camera has been upgraded to 12 megapixels, and can shoot 4K video. The improved FaceTime camera on the front can take 5-megapixel stills. I didn't get to fully test either in the demo room, of course, but the shutter speed is crazy fast, and zooming in on the demo photos on each device revealed tons of detail. Panoramas are up to 63 megapixels now, and I love how their dedicated album in iOS 9 shows you the whole panorama in each thumbnail.
Previous Page 1 2 3 4 Next Page