How the Structure Sensor for iPad could make 3D scanning a part of everyday life
The iPad sensor from Occipital has new iOS apps that use 3D scanning to measure rooms, ship items, and even take next-gen family portraits.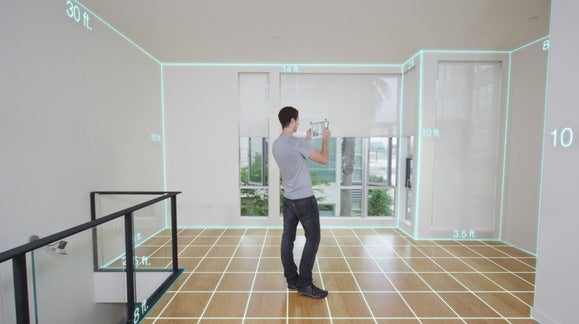 Just a few years ago, 3D scanning seemed like something straight out of a science fiction novel. Today, 3D-printed fashion is already walking down the runway.
The Structure Sensor by Occipital, which claims to be the world's first 3D sensor for mobile devices, is taking 3D scanning to the next frontier: your living room. By installing iOS apps built specifically for the Structure Sensor, you can begin to incorporate 3D scanning into your everyday life, from finding the right shipping box to measuring indoor spaces, and even capturing 360-degree body scans of your loved ones.
This lightweight anodized aluminum accessory attaches to an iPad with a bracket and connects with a Lightning cable. The sensor is compatible with the current iPad models with Lightning ports (4th generation iPad, iPad Air, iPad Air 2, iPad mini 2 through 4). Once connected, the sensor expands on the iPad's built-in camera to capture and display 3D scans. The Structure Sensor casts thousands of invisible infrared dots onto objects and spaces. Using structured light, the sensor records the distance between each dot and the camera to construct a 3D geometric pattern. The sensor has a depth sensing range of almost 12 feet, so it's most ideal for scanning indoor rooms, objects and people. Occipital sells the Structure Sensor in two colors, silver or blue, for $379. That includes a bracket for the iPad model of your choice.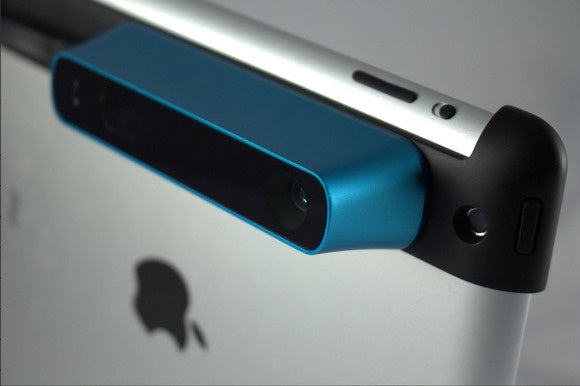 Credit: Occipital
To get started with the Structure Sensor, first you should download the accessory's official iOS app that keeps track of battery life and firmware updates. The sensor has an internal battery, so it won't drain your iPad, and this built-in battery lasts three to four hours while in active use. Occipital recommends also installing the free Calibrator app to make sure the color textures are accurate. Calibrating the sensor takes a few minutes thanks to the guidance of a quick tutorial, and it's crucial if you're using an app that relies on the iPad's color camera. We tried out three free iOS apps that really bring out the Structure Sensor's real-life potential.
Room Capture
I don't even have a ruler at my house, let alone a measuring tape. Thankfully, I do have an iPad laying around, and using the Structure Sensor allowed me to measure my living room before ordering a new sofa from Ikea.com. The free Room Capture app for iPad uses the Structure Sensor to map your indoor space and provide exact measurements.
Once you open Room Capture, just move the iPad to map the entirety of the area you want to capture, up to the ceiling if you want. After you're done scanning the space, you can simply tap on two points on the 3D map, let's say from one corner to another, to get an instant measurement of the length between the two points. You can also view the space in x-ray mode or get a bird's eye view, to help with entire room measurements.