How to record remote audio podcast interviews
With Skype and a $20 application you can record good-sounding remote interviews. Here's how.
Unless your podcast is based solely on your own charm and wit or you have a lot of local talent willing to stop by your studio, there will be occasions when you need to record interviews remotely. While there are a handful of ways to do this, one of the most popular is making a call over the Skype VOIP service and recording the results. It's popular not only because Skype-to-Skype calls are free, but because Skype generally has good voice quality and there are a variety of tools for capturing Skype calls. Here are the steps for using one of those tools.
Step 1: Download Call Recorder
After downloading a copy of Skype and setting up an account, additionally download and install a copy of Ecamm Networks' $20 Call Recorder. This is a Skype add-on that makes it very easy to capture both sides of a Skype call on separate tracks.
Step 2: Configure Call Recorder's settings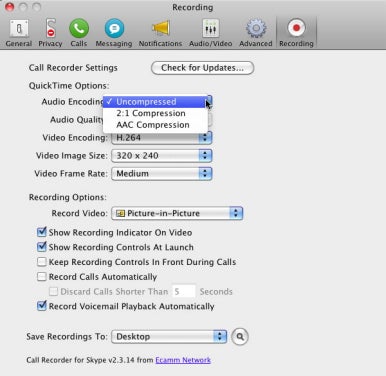 When you launch Skype, a window will open that asks if you'd like to configure Call Recorder. Click Yes. This opens Skype's Recording preference pane. It's within this window that you can configure Call Recorder's audio and video settings. Choose Uncompressed in the Audio Encoding pop-up menu and your Skype calls will be recorded in AIFF format, which result in quite large files. If you'd like good sounding files that don't take up as much space, choose AAC Compression from the Audio Encoding pop-up menu and High from the Audio Quality pop-up menu. As we're not recording video, leave the video recording options as they are and close Skype's Preferences window. A small Call Recorder window will appear.
Step 3: Capture your call
Make or receive your Skype call. (Call Recorder works regardless of who initiates the call.) Listen to the person on the other end of the call and feel free to advise them if their volume is too low, too high, or they're put their headset microphone too close to their mouth, resulting in a lot of popped Ps and Bs (called "plosives"). With some adjustment in their position, or the position of the mic, they can deal with these issues. Although you have little control over the kind of microphone your guest uses, you should be sure to have a decent microphone in front of you. Inexpensive headset mics generally produce poor results. I prefer a good quality USB tabletop microphone or a "standard" XLR microphone mounted on a boom stand. Such microphones are available from a variety of manufacturers.