How-To: Using Bluetooth to tether your iOS device
Apple's recent iOS 4.3 update adds Bluetooth tethering to every iPhone, iPod touch, and iPad capable of running that version of the mobile operating system. This lets any of those devices obtain an Internet connection from an iPhone with its sharing feature enabled. Glenn Fleishman shows you how it's done and tells you why you'd want to do it.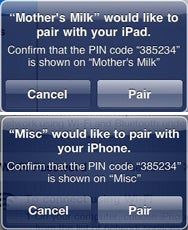 Both iOS devices you're linking up via tethering will show the same code and ask you to confirm. If the number isn't the same, cancel and try again. It's either an error or a nearby ne'er-do-well.
On any other iOS device with version 4.3 or later installed, follow these steps to pair and then tether the device:
In the Settings app, tap General, then Bluetooth.
Select your iPhone from the Devices list. It will appear by whatever name shows up when you sync in iTunes. (You can change that in iTunes by clicking the name, and then typing in a new one. This works even on computers other than the one with which you sync your media and apps.)
On both your iPhone and the iOS device which you are pairing, a dialog appears asking you to confirm that a six-digit PIN code appears the same on both devices. If it does, tap Pair on each device. (This security step prevents a third-party from intercepting traffic or pairing without permission. if a third-party were in the middle, the codes won't match.)
The Devices list shows your active connection, here between an iPad and the iPhone that's sharing its mobile broadband.
On your paired device, a special chain-link icon appears where a Wi-Fi signal strength meter typically shows up in the status bar at upper left. On both devices, the word Connected appears next to the name in the Bluetooth Devices list.
Your iOS device will remain paired with the iPhone's mobile hotspot as long as it remains active. If you put it to sleep and wake it, it should reconnect: you'll see the double-link icon at upper left if it does. Should your device fail to reconnect automatically, launch Settings and tap General -> Bluetooth. If it says Not Connected next to the iPhone's name in the Devices list, tap the name. This causes the device to reconnect. If that fails, try toggling the Personal Hotspot option on your phone from off to on.

A special two-chain icon appears in the status bar when you're using Bluetooth (or Wi-Fi) tethering to connect to an iPhone's Personal Hotspot sharing feature.
You can make your iOS device stop pairing by tapping the white-in-blue detail arrow next to the iPhone's name in the Bluetooth screen's Devices list. Tap Forget This Device, and it has no memory of how to connect. (You can easily repair at will using the instructions above.)
Bluetooth tethering isn't a replacement for Wi-Fi sharing, but it provides more flexibility in your arsenal, especially if you commute and don't want to have to fiddle with multiple devices to gain a connection.
Previous Page 1 2 3